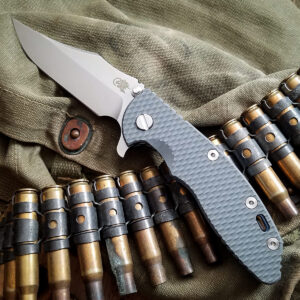 The new Hinderer XM-18 3.5 Bowies are hitting the shelves, and they're awesome. These sturdy workhorse folders are fast, reliable, and built to last. They might not be the least expensive knife on the market, but they might be among the best.
The XM-18 3.5 is a manual flipper with thumb studs and a flat ground 3.5" CPM 20CV Bowie blade that's 0.16" thick. These new models have Hinderer's Tri-Way pivot. It comes with a ball bearing pivot installed, but inside the milled handle scales are nylon and bronze washers. This is great because it allows you to customize your knife the way you want. There's also an oversized forward finger choil so you can safely choke up on the knife for detail work.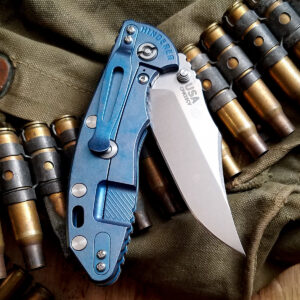 This framelock has a rock-solid lock up with an overtravel stop. Additionally, the thumb stud increases the lock up to neigh perfection. Hinderer tells us, "The blade locks up on a solid ¼ in diameter Thumb stud which is press fitted into the blade. This makes for a very strong lockup as there is no loosening of the thumb stud which can happen with two-piece designs. The fact that the thumb stud locks up against the frame adds an incredible amount of strength to the sideways torque of the blade as the sideways stresses are being stopped by the whole handle side, thus relieving the stress that would normally be put on the pivot."
These new models have machined G-10 front handle scales and jimping throughout the body of the knife for a fantastic, slip resistant grip. The back handle is anodized titanium which makes for an easy, non-pocket-tearing ride in just about any pocket. It has a reversible tip-up or tip-down pocket clip and lanyard slot for accessories. It's 4.75" closed and weighs a solid 5.6 ounces.
Hinderer XM-18 3.5 Bowie
CPM 20CV, Working Finish
3.5" Bowie
0.16" Blade Thickness
Manual Flipper with Thumb Studs and Tri-Way Pivot
Titanium Framelock with Lockbar Stabilizer
Milled G-10 Front Handle, Anodized Titanium Back Handle
Reversible Pocket Clip and Lanyard Hole
5.6 Ounces
4.75" Closed
8.25" Overall
Made in the USA
If you like your pocketknives to be sturdy workhorses you can always count on, you should absolutely check out the Hinderer XM-18 3.5" Bowie. If you're interested in this knife, click any link in the article or simply click the button below.


All images courtesy of Smoky Mountain Knife Works – smkw.com.