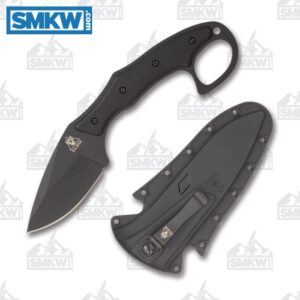 For concealability, easy indexing, and self-defense you can't go wrong with the KA-BAR TDI Pocket Strike. It's has a ton of piercing ability, with just enough belly to give it a powerful slice. It's almost a karambit but not quite.
The KA-BAR TDI collaborations are some of the most highly recommended tactical and self-defense knives on the market. They're easy to carry, easy to index, and easy to use. KA-BAR tells us TDI Institute President and Chief Instructor John Benner's goal when designing this highly acclaimed TDI line of tactical knives was to make "…a low-profile fixed blade knife for law enforcement, military and security personnel that could be drawn quickly and efficiently in times of duress. After more than a year of prototype samples and in-field testing, the Benner-approved TDI knife was put into production. The same basic principles that founded that first knife were incorporated into all future TDI models…" The Pocket Strike definitely follows through on that principle.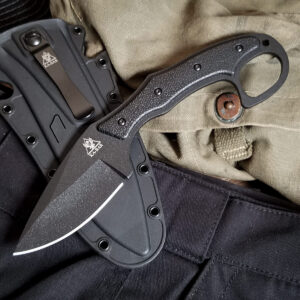 It has a black coated 3.19" AUS8A drop point blade with a blade thickness of 0.17" and a hollow grind. AUS8 is a good, budget friendly stainless-steel that's easily sharpened to hair popping sharpness. It has a fair amount of stain resistance that's increased by the black coating. There's a fairly long belly and a reinforced tip for piercing power. Additionally, the blade thickness adds a ton of sturdiness for reliability.
This is a full tang fixed blade with textured nylon and fiberglass handle scales for a great, slip-resistant grip. There's an almost oblong finger ring which allows this to somewhat function as a karambit. You can both quickly index the knife even in the dark and change up your grip from forward to reverse almost without hesitation. The handle length is just over 4.5", giving you ample room for a good grip.
Although the hard plastic sheath has multiple lashing points, the real key to it is the pocket clip which allows the knife and sheath to securely ride fairly low in your pocket, thus increasing the concealability factor. The Pocket Strike has an overall length of 7.75". The knife and sheath combined weighs about 6.4 ounces.
KA-BAR TDI Pocket Strike
AUS8A, Black Coated
3.19" Drop Point
0.17" Blade Thickness
Hollow Grind
57-59 HRC
Full Tang Fixed Blade
4.5" Handle Length
Textured Nylon/Fiberglass Handle Scales
Lanyard Hole
Oversized Oval-Shaped Finger Ring
Hard Plastic Sheath with Pocket Clip
6.4 Ounces, Knife and Sheath Carry Weight
7.75" Overall
The KA-BAR TDI Pocket Strike is a highly concealable self-defense tool. It has a good steel and a budget friendly price. If you're interested in this knife, click any link in the article or simply click the button below.


All images courtesy of Smoky Mountain Knife Works – smkw.com.