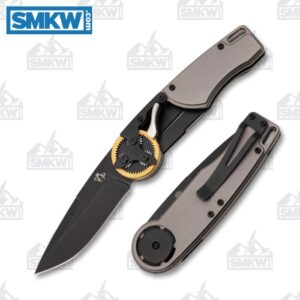 The new for 2021 Mantis Gearhead is now lighter and more EDC friendly. This unique knife is a genius design from Grant and Gavin Hawk of Hawk Knife Designs. It's not just a cool knife with a steampunk vibe, it has an incredibly fast action and possibly one of the easiest new opening methods we've ever seen. As a matter of fact, the entire knife is super user friendly, simple, and wicked fun.
Here's how it works. When you pull back the lever, it moves the carrier gear, which makes the three small planet gears revolve around the sun gear.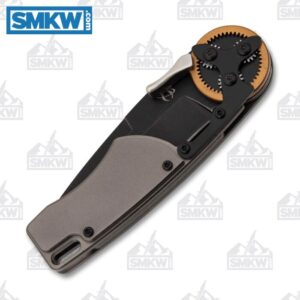 It's literally ancient technology that we believe has never been used on a pocketknife and it's cool as heck. It not only looks cool, but the action is also ridiculously fast and honestly addictive. Literally everyone we handed to this knife opened and closed it many, many times. The ease of use doesn't stop with opening the knife. The way the Gearhead is built leaves the linerlock very accessible and easy to use. You barely need turn the knife in hand to close the knife. Don't just take our word for it, check out the video from Hawk Knives.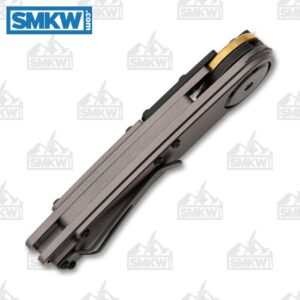 The 2026DP model we carried has a black coated 2.875" 440C drop point blade with a blade thickness of 0.11". There's a nice swedge about halfway down the spine which gives it a great look. It has stonewash finished 6061 aluminum handles and a brass-colored ring gear pivot.
Your options aren't limited to 440C drop points. There are other models with copper and satin brass gear pivots, tanto tip blades, as well as models with Damascus steel and carbon fiber handles. Whichever model best suits your fancy, the knives in the 2021 Gearhead series are all 4.125" closed and weighs about 4.2 ounces. They all have a tip-up pocket clip, as well as a lanyard slot for accessories.
Mantis Gearhead Details
440C, Black Coated or 62 Layer Damascus
2.875" Drop Point or Tanto Tip
0.11" Blade Thickness
Linerlock
Working Planetary Gears
Aluminum Handles
Tip-Up Pocket Clip
Lanyard Slot
4.2oz.
4.125" Closed
7" Overall
The Mantis Gearhead is a seriously cool knife with a fantastic, steampunk vibe and a unique opening mechanism. If you're interested in this knife, click any link in the article or simply click the button below.


All images courtesy of Smoky Mountain Knife Works – smkw.com.