The Rough Ryder Black G-10 Fixed Blade is big enough, beefy enough, and gosh darn it we just like it. The only thing missing is a catchy name. We'd like to suggest the Fatty McSheepscliffe.* This behemoth is a fat, fun chopper with a great profile and a budget friendly price of about $20.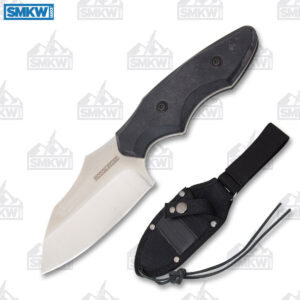 With an overall length of 8", this knife is actually sized about right for daily carry. We're calling this one a behemoth not because it's a ginormous hunk of steel. It's not the length on this knife, it's the girth. The 3.5" 440A sheepscliffe blade has a bit of a belly and a blade thickness of a whopping 0.19". That's a pretty danged fat blade for an under-4" blade length.
It's a full tang fixed blade with a handle length of 4.5" and contoured black G-10 handle scales. it's got a surprising comfortable grip. It comes with a black nylon dangler sheath with a leg tie, so the knife moves with you without repeatedly banging against your leg. It's secured by frustration-free EZ Snaps and a secondary safety strap.
Rough Ryder Black G-10 Fixed Blade
440A, Satin Finish
3.5" Sheepscliffe
0.19" Blade Thickness
Full Tang Fixed Blade
G-10 Handle Scales
Nylon Dangler Sheath with EZ Snaps
8" Overall
For about $20, the Rough Ryder Black G-10 Fixed Blade is a fun, budget friendly find. It's a full-tang fixed blade with an interesting profile and a girthy build. If you're interested in this knife, click any link in the article or simply click the button below.


All images courtesy of Smoky Mountain Knife Works – smkw.com.

[* Note: No. This is why we can't have nice things. Fatty McSheepscliffe, indeed.]