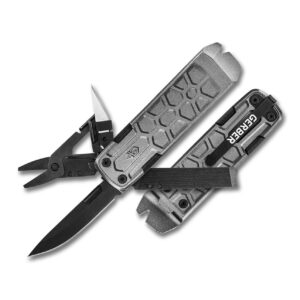 With SHOT Show missing this year, brands are dropping their offerings online, and we're scrambling to show them to you. Gerber has now released at least part of its 2021 lineup.
Here's a look at everything from an Ulu and an Axe to Mini Pry tools and flippers.
Gerber Lockdown Drive and Pry
Gerber is offering two pocket-sized multi-tools in the Lockdown Drive and the Lockdown Pry. The Drive is just 3.9″ closed and .56″ wide. Its low-profile is easy on the pocket and includes a pocket clip and the following tools: 2.5" partially serrated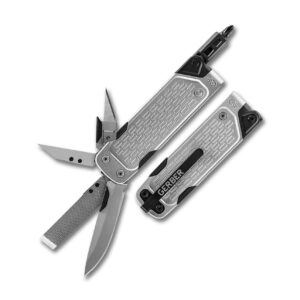 blade with frame lock, driver with 2 sided ¼" bits, #2 cross driver and medium flathead, awl, replaceable #11 utility blade, file and chisel edge.
The Lockdown Pry is 4″ closed and .56″ wide and has a pocket clip as well. It includes the following tools: 2.5″ blade with frame lock, cast pry bar, bottle opener, scissors, replaceable #11 utility blade, file, chisel, large and small flathead screwdriver, and nail puller.
Gerber Folders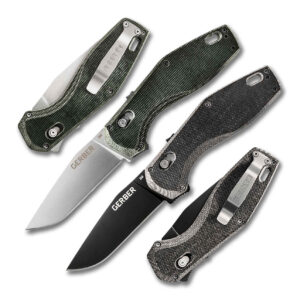 The Hyperflip is an assisted opener available in black and olive green. Gerber says, "When life calls for immediate action, reach for the Hyperflip assisted opening knife. Its eye-catching style is as bold as its features: a PVD-coated D2 blade, one-hand operating pivot lock and safety slide, smooth finger flipper deployment, and a textured Micarta handle scale. Carry it to your liking with an ambidextrous pocket clip and a lanyard hole. The full-size frame is ready to overcome whatever is thrown your way." This is a full size flipper at 8″ overall.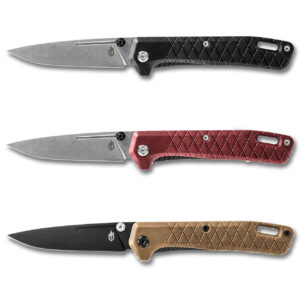 The Zilch is a compact and slender that opens up to 7.2″ but weighs only 2.2oz. Gerber says, "Pockets don't have infinite space and the Zilch consumes almost none of it while coming in very lightweight. Slender construction with a unique design in the spine provides both enhanced pocketability and a touch of swagger. Open with the supplied thumb stud or the option of nail nick deployment." It's available in coyote brown, black and drab red.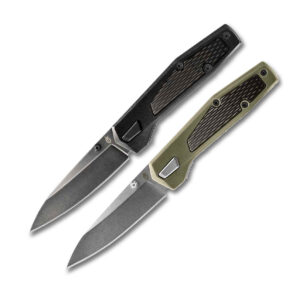 The Fuse is another full-size folder that opens to a full 8.23″ Gerber says, "The Fuse merges high-resolution electroformed stainless steel with lightweight glass-filled nylon to provide a rigid, stylish, trend-forward design. Two full stainless steel liners provide added rigidity, and an exposed easy-access liner lock makes operation simple. Built on barrel construction, and equipped with a deep carry pocket clip, the Fuse is a step up for the EDC crowd." It's available in flat sage green and black with two different blade finishes.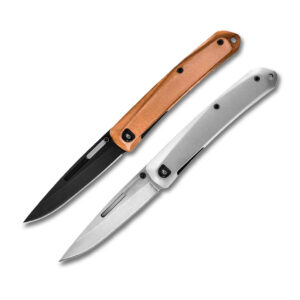 The Affinity is a very sleek folder with a unique, adjustable thumb stud system that slides back and forth in a slot on the blade. Gerber says, "Built with double-windsors and 3-pieces in mind, the Affinity is the right accoutrement for any black tie affair. Simple ergonomics and barrel construction create a clean and fresh look, while the pop of color pinch plate provides a striking aesthetic breakup on the steel frame lock. The thumb stud on the Affinity is adjustable to meet the ergonomic desires of many different sized hands, while easy access to the frame lock makes operation a breeze." Its 8.45″ open and available in aluminum or copper.
Armbar goes Slim in 2021
Gerber offers two new slimmed down versions of the Armbar this year with the Armbar Slim Drive and the Armbar Slim Cut. Both tools close down to 3.8″ and weigh in under 2.5oz. The Cut features the following tools: 2.5″ plain edge blade, frame lock, 2.5″ scissors, and a bottle opener. It's available in burnt orange, Baltic haze, and onyx. The Drive features the following tools: 2.5" plain edge blade, frame lock, 2″ extension bit driver with two-sided bit, and a bottle opener. The Drive is available in burnt bronze, burnt orange, and onyx.
Tools for the Great Outdoors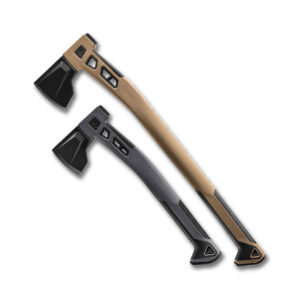 Gerber offers a 26.25″ Bushcraft Axe and a 15.5″ Bushcraft Hatchet for 2021, and both feature what Gerber calls its waterproof Gear Storage Stick that nests in the handle. Gerber says, "Thriving in the woods is not a matter of fortune, but a matter of preparedness. The motto "two is one, and one is none" is an axiom, and the Bushcraft Hatchet is up to the challenge. A single-piece axe head with overstrike guard ensures durability, while the rubber overmold grip at the bottom of the axe head provides additional choke-up cutting utility. A hammerhead on the back is not the end of the features – the waterproof Gear Storage Stick nests in the handle, hosting 5' of paracord and one storage compartment for a mini lighter, firestarter, or dry tinder." Both the Axe and Hatchet are available in coyote brown and grey.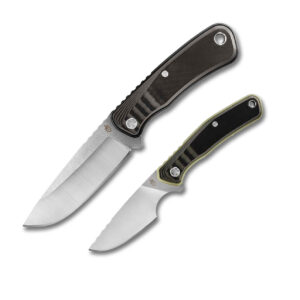 The Downwind series offers two knive and an Ulu all with matching handle material and finishes. Gerber says, "The Downwind Series is Gerber's nod to the aesthetics of the past, married with the materials of the modern day. Layered machined G-10 scales provide grip that increases when wet or bloody while delivering a traditional look… The Downwind series is housed in waxed canvas sheaths, paying homage to the tools of our forefathers."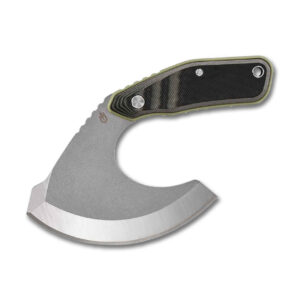 We'll take this from large to small to make sure we get everything in. The Downwind Caper is a 7.24″ caping blade with jimping in all the right spots. The Downwind Drop Point is an 8.97″ drop point blade that looks perfect for camp. The jimping along the top of the handle and the spine of the blade provides excellent grip. And finally, the Ulu is a little beast of a blade at 6.54″ overall. It also provides stability and grip with jimping in all the right places. All three of these blades are available in olive or black.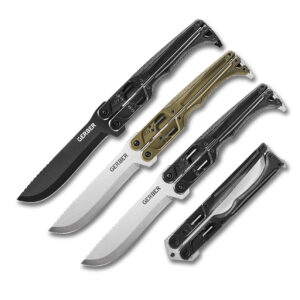 And last but not least, Gerber brings back the massive 15″ Doubledown in two styles and three colors. It's basically a butterfly machete. Gerber says, "The American-made DoubleDown Folding Machete is an outdoor tool that delivers never-before-seen function with an innovative design. Folding up to half its size, the DoubleDown can easily stow in a pack, on a belt, or attached to MOLLE. The unique design allows the user 3 distinct functions in one compact package: chop, cut, and baton. A patent-pending 4 lock system engages in 3 positions to ensure safe operation under varying levels of stress." This is now available in black on black, black and green.
And that's where we stand with Gerber in 2021 so far. We're looking forward to getting some of these in hand and creating some more detailed articles for you here on Knife Newsroom.