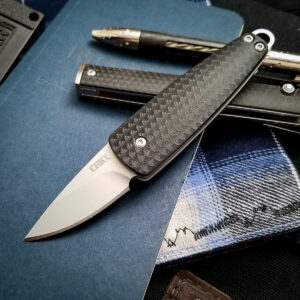 For a modern, nonlocking pocketknife with a ton of utility you can pick up for about $20, you seriously can't go wrong with the CRKT Dually. It's a great little knife. But I bet you're saying the name wrong. Are you pronouncing the CRKT Dually like "duly noted"? Are you perhaps old like me and singing that song about "Dooley" who's slippin' up the holler, and trying to make a dollar? Nope. CRKT says it's pronounced "do-all-ee." Maybe because it'll do all the things you usually need a knife to do during the day, including popping the top off a cold one at the end of the day.
Personally, I think CRKT missed the boat on this one. They should have pronounced it "Dooley" and people might have a song stuck in their heads all day about the knife Richard Rogers designed.
The Dually has custom knife maker and designer extraordinaire Richard Rogers all over it. If you've seen the Maven or the Inara, you'll see this knife has that same clean elegant design with some seriously sleek lines. Oh, it also has the same textured black GRN handles as the CEO which I personally love. They provide a nice amount of slip resistance without being onerous and I think it looks just great.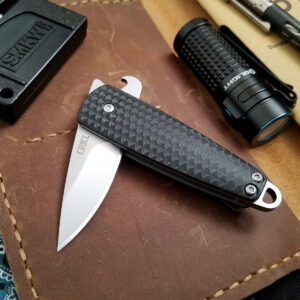 Now, they keep saying this is a slipjoint, but I think in acts a bit like a friction folder or non-locking front flipper without the occasionally tedious "holding the tab" bits. I mean, yes, technically it is a modern slipjoint with a ball detent. Yes, they are all the rage and for a good reason. It's a simple, easily used one-handed tool. Add in that at this small size, and with the non-locking blade, the Dually is legal just about everywhere. Plus it's a knife you can carry around non-knife people without them looking at you funny. No one will ever fuss or feel threatened by this knife. But it doesn't have a backspring and it does have an open construction, so I'm going to grumble and fuss that it's not really, really a slipjoint…because I'm old.
In any case, the flipper tab has the slightest touch of jimping so it's easy to index, and it also houses the cap lifter. The operation, as I said just a second ago, is super smooth and easy. The 1.72" 5Cr15MoV drop point blade has a bead blast finish and a blade thickness of 0.09". Now, if you're wondering what 5Cr15MoV is, it's a budget steel that's super easy to sharpen with a ton of corrosion resistance. It'll open all the doughnut packages, Dorito bags, and Amazon packages you throw at it. Additionally, with its thin edge, it'll even tackle a clam pack with ease. Oh, and it's $20 rather than $200. I think it's worth the tradeoff.
The Dually is also super pocket friendly. It weighs a mere 1.7 ounces. It has a closed length of about 3.51", a tip-up pocket clip, and a lanyard hole for accessories.
CRKT Dually Details
5Cr15MoV, Bead Blasted
1.72" Drop Point
0.09" Blade Thickness
Non-Locking Ball Detent Slipjoint with Front Flipper
Textured GRN Handle Scales
Cap Lifter
Tip-Up Pocket Clip
Lanyard Hold
1.7oz.
3.51" Closed
4.81" Overall
For $20, the CRKT Dually is a danged good buy, even if CRKT is pronouncing it wrong. It's a charming knife with a smooth action and a ton of utility you can pick up for about $20. If you're interested in this knife, click any link in the article or simply click the button below.


All images courtesy of Smoky Mountain Knife Works – smkw.com.