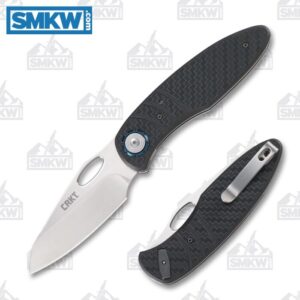 We haven't tried to chop down a tree with the CRKT Trask…but we bet we could. It looks like a sleek and sexy gentleman's folder, but thanks in no small part to the unbeatable Deadbolt lock, the Trask has the heart of a badass beater. CRKT tells us Eric Ochs designed it to be an "EDC designed for the deep woods."
First, let's have a quick refresher on why the Deadbolt is neigh unbeatable. Invented by Flavio Ikoma and first released by CRKT about two years ago, the Deadbolt lock has two bolts that basically run through the tang of your knife. As CRKT explains it, "Steel bolts interlock with the blade when it's deployed to yield incredible strength. A prominent button sits at the pivot point for simple, intuitive disengagement without fingers crossing the path of the blade." Basically, the only way the lock fails is if the blade breaks.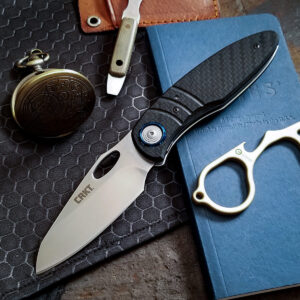 The Trask was designed around this relatively new technology. Rather than a tough, tactical look though, it's got some refinements that make it more friendly. There's an anodized blue pivot collar and a textured GFN handle that make it look more like an attractive, mid-sized EDC. Think of the CRKT XOC as the Hulk. This is more like Bruce Banner. It has the same insides, but with more attractive and reasonable appearing outside.
It has a satin finished 3.33" D2 Sheepsfoot blade with a blade thickness of 0.13" that rides on an IKBS ball bearing pivot. There's a smooth thumb ramp for fine detail work, and a forward finger choil which we all love.
This knife is a manual thumb hole opener with a smooth controlled action. Now, there are likely people out there who can flick this bad boy like it's an auto. I'm not that person. I'm the reason the CEO has a flipper. For me, the action is a smooth, controlled opening and that's not always a bad thing. I've never once cut myself on a knife I had to pay attention to.
CRKT Trask Details
D2, Satin Finish
3.33" Sheepsfoot
0.13" Blade Thickness
Manual Thumb Hole Opener with IKBS Ball Bearing Pivot
Deadbolt Lock
Tip-Up Pocket Clip
4.4oz.
4.43" Closed
7.75" Overall
How is the CRKT Trask like Bruce Banner? Much like the beastly XOC, it has the heart of a Hulk but it's much milder mannered, and with a friendly EDC appearance. It's a tough, beastly knife that makes an attractive EDC. You probably shouldn't try to chop down a tree with it, but let us know if you do. To get this knife, click any link in the article or simply click the button below.


All images courtesy of Smoky Mountain Knife Works – smkw.com.