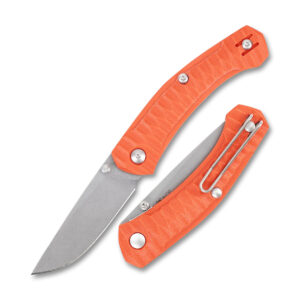 Brought to you by the brilliant minds of Jesper Voxnaes and Jens Anso, the GiantMouse Ace Iona takes its name from a bar of the same name located in Brooklyn. It's a small pub located in what used to be a candy store, and it's known for its camaraderie, great music, and excellent service. It's a no-frills, no nonsense, nothing fancy bar that just happens have everything you need in a great bar. That's the Iona to a T. It's essentials-focused, as GiantMouse puts it, "steel and feel" and they aren't wrong.
There have been a few updates since we first wrote about the Iona including a couple of new handle scale colors. In case you need a refresher, or you missed out on the first go round, the Iona features a a 2.875″ M390 stainless steel drop point blade with a satin finish. M390 is one of the best steels in the world. It gets sharp and stays sharp. The blade is .11″ thick and opens quickly and easily on bronze washers with ambidextrous thumb studs.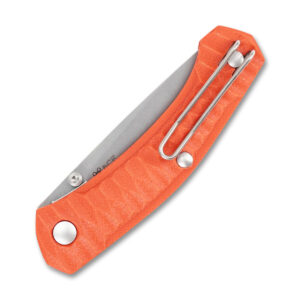 The handle is nothing special. It's orange G-10 with an Anso-texture that offers a comfortable grip that's easy to hang onto during use. It's super light and houses an ambidextrous, deep-carry tip-up wire pocket clip, as well as nested linerlock and liners.
The GiantMounse Ace Iona is 4″ closed and 7″ overall. It weighs just 2.7oz. It's manufactured in Managio, Italy, and GiantMouse says the, "Iona is the perfect EDC folder to drop in the pocket, bag, truck or wherever you might need a dependable knife with good cutting power and great action." We agree.
GiantMouse Ace Iona Orange Details
2.875″ M390 Stainless Steel Drop Point Blade
.11″ Thick with a Satin Finish
Dual Thumb Studs
Bronze Washer Pivot
Liner Lock
Nested Liners
G-10 Handles with Anso-Texture
Ambidextrous Tip-Up Deep Carry Wire Pocket Clip
4″ Closed
7″ Overall
Weighs 2.7oz
Made in Maniago, Italy
If you've not had the pleasure of trying out a GiantMouse knife, you're missing out. The GiantMouse Ace Iona is a factory version from one of the best-made custom makers on the planet. It meets all of their exacting performance standards. If you're interested in one of these, move fast. They're swept up quickly every time they hit the market. You can find this one by clicking any link in the article or the button below.