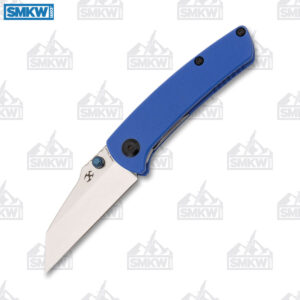 It's no secret at Knife Newsroom. We like Dirk Pinkerton's designs. We loved the beastly Artisan Proponent and its chunky little brother the Mini-Proponent, and Dirk Pinkerton did not disappoint with the the Kansept Little Main Street. It's a fifth-pocket-sized EDC that packs a punch with a modern reverse tanto blade, and frankly, it's budget-friendly as well.
The Kansept Little Main Street features a 2.25" 154CM stainless steel reverse tanto blade that's .12″ thick. While we're holding the blue G-10 model with a satin finish blade right now, it's also available with a black coated and black stonewash finish in other models. This is an ambidextrous thumb stud opener with a ball bearing pivot, so opening is quick and easy, once you find the sweet spot.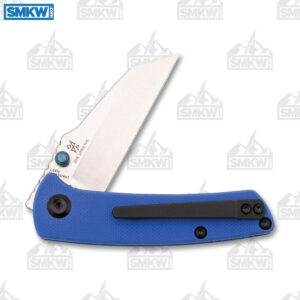 This liner lock closes down to just 3″, which means it will slip in your fifth pocket easily. It's available in a wide range of handle materials, including a blue, black and purple G-10, brown Micarta, and black carbon fiber. It also includes a removable, but not reversible pocket clip.
The Kansept Little Main Street is only 5.5″ fully open, and it weighs just 1.5oz. It's just a simple, easy-t0-use EDC cutting tool from Dirk Pinkerton and Kansept.
Kansept Little Main Street Details
2.25″ 154CM Reverse Tanto Blade
.12″ Thick
Dual Thumb Studs
Ball Bearing Pivot
Liner Lock
G-10, Carbon Fiber, or Micarta Handles
Steel Liners
Hardware varies in color according to handle material
3″ Closed
5.5″ Overall
Weighs 1.49oz.
Click any thumbnail below to launch a slide show of bigger images.
We really like the Kansept Little Main Street, because there's something to be said for a small unobtrusive knife that gets the job done. We also like that it ranges in price based on handle materials and finish between $66-$73. If you're interested in seeing the different models, simply click any link in this article or the button below.


All images courtesy of Smoky Mountain Knife Works – smkw.com.