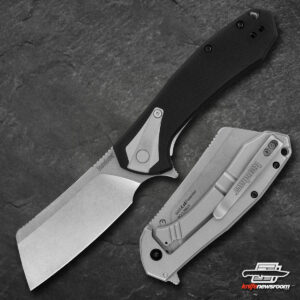 Kershaw found a hit with their cleaver-based Static last year, even allowing exclusive versions like the Kershaw Static Brass and Copper. For 2021, they've enlarged the Static and gave it a bit of a makeover. The Kershaw Bracket is a 7.75″ SpeedSafe assisted flipper that is spot on for you cleaver lovers out there, and it's available for under $40.
The Kershaw Bracket features a 3.4″ 8Cr13MoV stainless steel cleaver blade with a stonewash finish. It's .11″ thick with a nice grind and jimping at both the thumb rest area and toward the tip of the blade. It also has a nice finger choil in the blade, so you can choke up on the blade if need be. It's a SpeedSafe assisted flipper, so you don't have to worry about getting the big blade moving manually.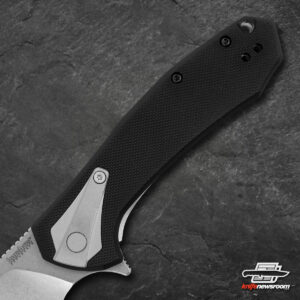 This framelock has a black G-10 front scale and a stainless steel back scale. The pivot overlay certainly gives the Bracket an interesting look, but it has no general functionality. The handle also includes an ambidextrous, deep-carry tip-up pocket clip, so this knife is lefty/righty friendly. And, the Bracket inlcudes a lanyard hole.
This knife closes down to 4.4″ and is 7.75″ overall. It weighs in at 4.3oz, and according to Kershaw, "Even with its changes, the knife weight is just as balanced the Static."
Kershaw Bracket Details
3.4″ 8Cr13MoV Stainless Steel Cleaver Blade
.11″ Thick with a Stonewash Finish
SpeedSafe Assisted Flipper
Decorative Pivot Overlay
Framelock
Black G-10 Front Scale
Stainless Steel Back Scale
Ambidextrous Tip-up Deep Carry Pocket Clip
Lanyard Hole
4.4″ Closed
7.75″ Overall
Weighs 4.3oz
The Kershaw Bracket is an extra large version of the Static with a pretty nice makeover. It feels good in hand and won't break the back with its $40 price tag. If you're interested in getting one of these, you can click any link in the article or the button below.