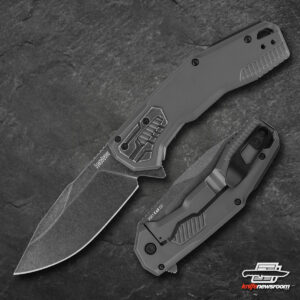 There's something to be said for a knife that can get the job done – one that comes out of the pocket no matter what cutting situation you face. You don't care that it has battle scars or gets a little beat up, because you know it works. The Kershaw Cannonball might not be the prettiest knife on the block this year, but it's not made to be pretty. It's made for work, and its look hides battle scars. Its built for speed and strength – and here's the kicker. It's under $50.
The Kershaw Cannonball is a SpeedSafe Assisted flipper with a 3.5″ D2 Tool Steel, harpoon-style, drop point blade. If you've never owned a SpeedSafe Assisted knife from Kershaw, here's the deal. SpeedSafe is fast, accurate, and reliable – for years. Get this .11″ thick blade moving just a little with the flipper tab, and it's out, locked into place and ready to go.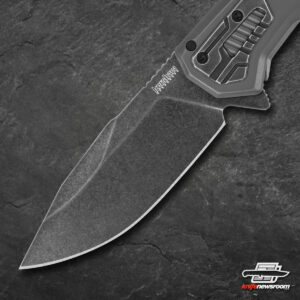 The harpoon-style blade shape lets you choke up on this knife with your thumb without slipping forward. To add to that grip, Kershaw placed some jimping in that same area as well. Beyond that, Kershaw's BlackWash finish hides hard-use scratches really well, so you can beat the hell out of this blade and no one will notice.
The Kershaw Cannonball is a framelock with PVD coated stainless steel handles that makes it extraordinarily corrosion resistant. The deep-carry tip-up pocket clip is ambidextrous and virtually makes the knife disappear in your pocket. It also has a lanyard hole and a custom pivot cap and backspacer.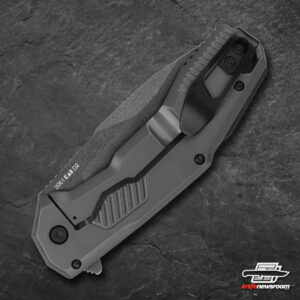 This knife closes down to 4.5″ and opens to a full 8″ with the pull of the flipper tab. This D2 beast weighs in at a full 5.4oz.
Kershaw Cannonball Details
3.5″ D2 Tool Steel, Harpoon-style, Drop Point Blade
.11″ Thick with a BlackWash Finish
SpeedSafe Assisted Flipper
Framelock
Stainless Steel Handles with PVD Coating
Ambidextrous Deep-Carry Tip-up Pocket Clip
Lanyard
Custom Pivot Cap and Backspacer
4.5″ Closed
8″ Overall
Weighs 5.4oz.
We like this 2021 Kershaw Cannonball as an addition to the hard-working, budget-friendly knives that have appeared in the Kershaw lineup over the years. We like the use of D2 steel and the price point, which is under $50. If you need a work knife and want to learn more about this knife or just want one for yourself, you can click any link in this article or the button below.