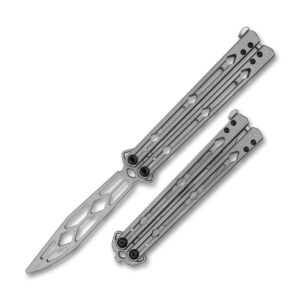 Think the Kershaw Lucha looks awesome, but you can't flip, and you don't want to accidentally lop off a limb? Well, the Kershaw Lucha Trainer will be here any minute. We're just going to say it. If you're learning to flip, you should learn with a trainer. They won't take your macho card, and no one will think you're a wuss if you decide you'd like all ten fingers functioning as intended.
If you've ever spent time in the Bali groups or amongst the Bali flippers, you've seen some seriously gnarly cuts. Another thing you've seen if you've been around is the uber macho, "I don't need no stinkin' trainer." Then all the experienced flippers snicker and wait for the next gory pic. It's amazing what some of these people can do with a knife, and they're the first to advocate for learning with a trainer.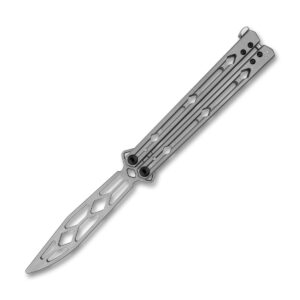 The Lucha Trainer is super close to the live blade Lucha. Kershaw tells us, "A rounded tip and blunt edge eliminate the risk of accidental cuts while performing tricks. Aside from that, this is still the same high-quality Lucha that's made in the USA. The trainer version was designed to perform as closely to the original Lucha as possible. For instance, the blade tapers so that the top has more weight to pendulum around smoothly."
This knife has a blunt 4.6" 14C28N clip point blade with great looking diamond cutouts that match the cutouts in the handle. They've kept the edges of the bead blasted stainless steel handles chopped or smoothed for an easy roll in your hand, and the dual KVT ball bearings make flipping easy. Even the latch is smoothed down for snag free use.
It has black oxide coated stainless-steel pivots and screws with a black anodized aluminum tube backspacer. The Lucha Trainer has a handle thickness of 0.43". It's 5.8" closed, 10.25" overall, and weighs about 6 ounces.
Kershaw Lucha Trainer Details
14C28N, Stonewash Finished
4.6" Clip Point, Blunted Edges
0.156" Blade Thickness
Dual KVT Ball-Bearing Pivot
Bead Blasted Stainless-Steel Handles with Rounded Bevel and a Finish.
Comfortable Rounded Bevels on the Handles and Latch.
5.8″ Closed
10.25″ Open
Weighs 6oz
Made in the USA
If you're interested in learning to flip a bali, the Kershaw Lucha Trainer is here to help. This USA-made butterfly knife has a smooth flipping action, a great feel in hand, and it'll keep you from lopping off limbs. If you're interested in this knife, click any link in the article, or simply click the button below.


All images courtesy of Smoky Mountain Knife Works – smkw.com.