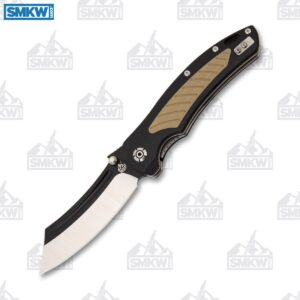 When you think of sexy animals, I'm more than confident that the Platypus does not come to mind. They look like what might happen if a beaver, an otter and a duck spawned. They're no black panther or stallion. That's for sure, but the QSP Platypus puts other platypi to shame. Its upswept reverse tanto and curvy body make this EDC the best looking platypus we've ever seen.
The QSP Platypus features a 3.75″ Sandvik 14C28N stainless steel upswept, reverse tanto blade with dual finish (black coated and satin). It's no slouch either at .14″ thick, and it opens manually with ambidextrous thumb studs. Opening is smooth and easy because of the ceramic ball bearing pivot.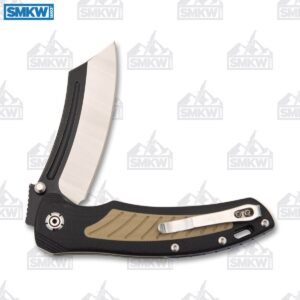 The shape of the blade is probably what you'll notice first on this knife. The upswept shape and dual finish really make the blade flow into the handle. The blade itself looks a bit like a pirate's cutlass.
This is a linerlock with steel liners. The handles are machined black G-10 with tan G-10 inlays in the center. The handle also has an ambidextrous tip-up pocket clip (with a filler plate on the reverse) and a good-sized lanyard hole. It's rounded out with a very unusual, but gorgeous anodized blue machined back spacer (with almost a Greek Key look).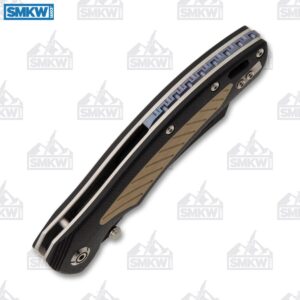 The QSP Platypus closes down to 4.9″ and is 8.6″ overall. That makes this a full size EDC that weighs in at a full 5.5oz.
QSP Platypus Details
3.75″ Sandvik 14C28N Upswept, Reverse Tanto Blade
Dual Finish Black Coated and Satin
.14″ Thick
Manual Opener with Dual Thumb Studs
Ceramic Ball Bearing Pivot
Linerlock
Machined Black G-10 Handles with Tan G-10 Inlay
Steel Liners
Ambidextrous Tip-up Pocket Clip
Lanyard Hole
Anodized and Machined Blue Back Spacer
4.9″ Closed
8.6″ Overall
Weighs 5.5oz
The QSP Platypus is the first time I ever thought a platypus was sexy. What makes it sexier is the price tag. It comes in at just under $54, and that's an amazing price point. It also comes in a few different handle colors. If you'd like to know more or get one of these for yourself, simply click any link in this article or the button below.


All images courtesy of Smoky Mountain Knife Works – smkw.com.