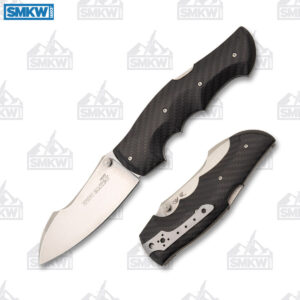 They're strong and come strapped with a horn or two on the snout of their massive two-ton frames. They don't like to fight, but they can, and they charge at up to 34mph. Yeah. Don't trifle with a rhinoceros. They don't come to play, and neither does the aptly named Viper Rhino. It's a well-made lockback that truly lives up to its name.
While Viper offers quite a few different versions of the Rhino in varying steels and handle materials, we took a look at the Viper Rhino Carbon Fiber version. It looks gorgeous  and it weighs less than the Santo wood or G-10 handled versions.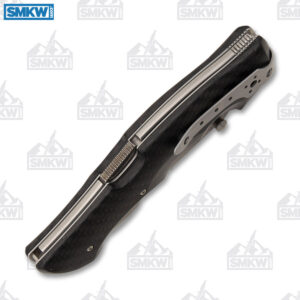 Designed by Fabrizio Silvestrelli, the Rhino features a 4.5″ N690 stainless steel, harpoon-style drop point blade with a satin finish. It's .16″ thick and the harpoon shape really does resemble the head and horn at the front of the blade.  The spine is crowned and jimped as it meets the handle, which makes it both comfortable and grippy at the same time.
This lockback is a manual folder with ambidextrous thumb studs.  Viper says that it achieves reliable lockup and smooth opening through a "distinctive mechanism which is based on two wire springs concealed in a notch between the scale and the liner." We're not exactly sure what that means (they're Italian and we're from Appalachia), but what we can tell you is that opening is smooth and easy for a locking knife with a 4.5″ blade. We had no trouble thumbing it open, and lockup was strong with no play at all.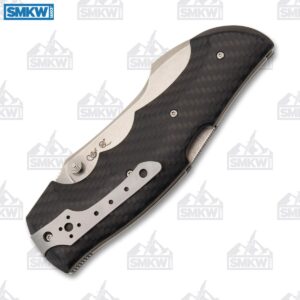 The Rhino has very nicely contoured carbon fiber handles. There's adequate and comfortable room for your entire hand on this handle, and the swell at the butt of the knife ensures that it's not going to slip from your hand when doing pull cuts.
The Rhino's handles rest on 420 steel liners with rounded corners, and all the spacers and levers are 1.4116 steel. It does have a removable tip-down pocket clip, and we suspect but did not confirm that it may be ambidextrous (the screw on each side seemed to be in the right spot to make it happen). It's 5.5″ closed, 10″ fully open, and weighs in at 8.6oz.
Viper Rhino Details
4.5″ N690 Stainless Steel, Harpoon-style Drop Point Blade
.16″ Thick with a Satin Finish.
Manual Folder
Dual Thumb Studs
Lockback
Carbon Fiber Handles with Steel Liners
Tip-Down Pocket Clip
5.5″ Closed
10″ Overall
8.6oz.
Designed by Fabrizio Silvestrelli
Made in Italy
The Italian-made Viper Rhino does live up to its name for sure. It's a 10″ lockback with super-strong lock and a handle that makes work just a little bit easier on the hand. If you're interested in one of these, simply click any link in this article or the button below.


All images courtesy of Smoky Mountain Knife Works – smkw.com.