Rough rider continues to impress us with beautiful craftsmanship at an outstanding price. This time, Rough Rider has tastefully decided to pay tribute to our troops with the American Hero Trapper and the American Ace Trapper.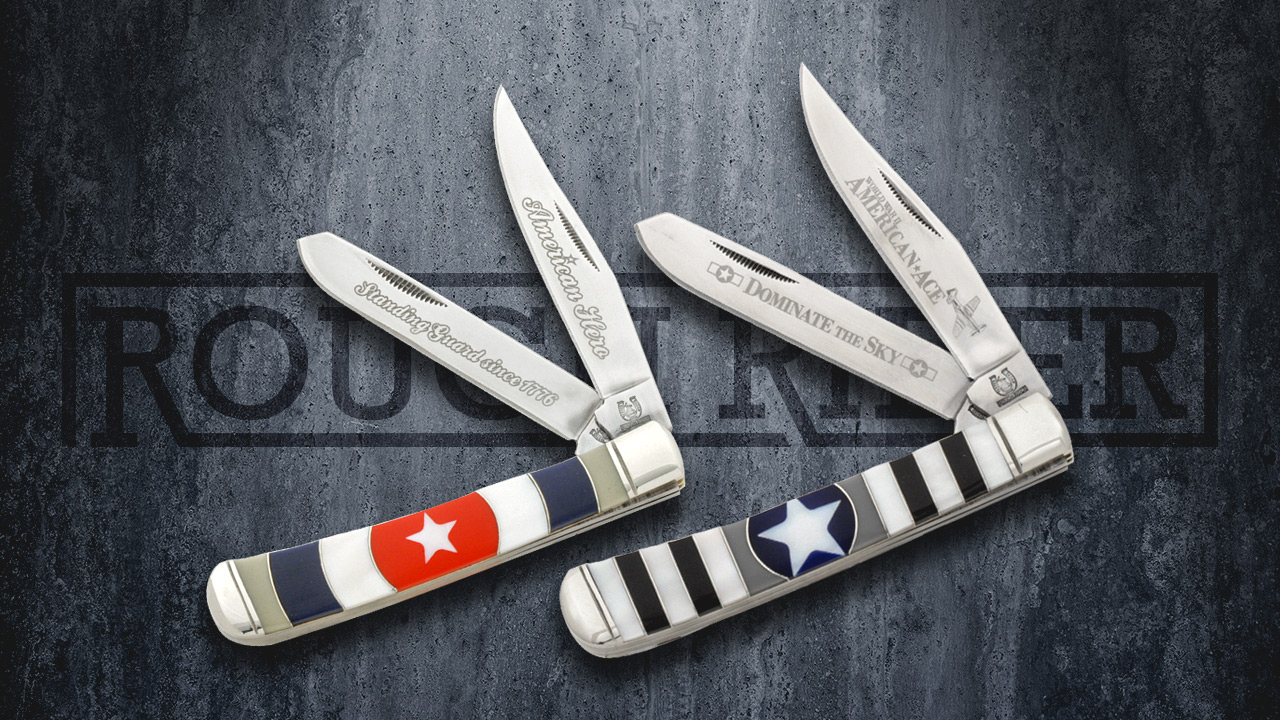 The American Hero Trapper is a real work of art. The knife proudly displays the United States Service star in patriotic colored synthetic stone and genuine mother of pearl inlays. The Trapper features your standard spey and clip point blades, but Rough Rider has taken it a step further by inscribing "American Hero" and "Standing guard since 1776" on them.
The beautiful aesthetics of the American Hero Trapper are complemented with Rough Rider's quality hardware. The blades are 440 stainless steel and come razor sharp right out of the box. When closing the knife, you're greeted by a satisfying "snap!" as the blade locks firmly in its brass liner. With great blades, nickel silver bolsters, and the American Service star, this is a great conversation starter.
Originally, I was only going to write about the American Hero trapper, but while we are on the topic of Rough Rider's quality commemorative pieces, it would feel like a crime to leave out the American Ace Trapper.
The American Ace trapper really incorporates everything I love in my personal hobbies: WWII history and aircraft. This trapper features the U.S Army Air Corps Star surrounded by those famous D-Day invasion stripes.
During the war, the stripes were painted on Allied aircraft to identify them from Axis aircraft. The stripes were painted on hastily and were notoriously sloppy, but that's not the case with Rough Rider. These stripes are neatly displayed in genuine mother of pearl surrounded by synthetic accents. True to their original task (making aircraft distinct), these stripes really make the American Ace stand out.
The American Ace's blades are also made of razor sharp 440 stainless, and the etch on the blades read, "World War II American Ace" and "Dominate the Sky."
The Details
440 Stainless
Synthetic/mother of pearl handles
Brass liners
Nickel silver bolsters
3 1/8" blade length
4 1/8" closed length
Both the American Hero Trapper and the American Ace Trapper are fantastic examples of why Rough Rider is only getting more popular. Their quality goes toe-to-toe with the biggest cutlery juggernauts, and Rough Rider does it in style. These commemorative knives are available at Smoky Mountain Knife Works (smkw.com) for the incredible price of $14.99. Simply click the buttons below to find them.
The American Hero Trapper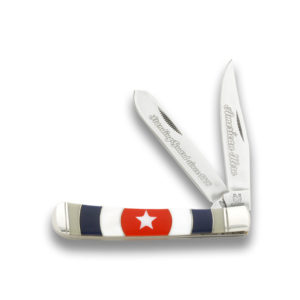 The American Ace Trapper