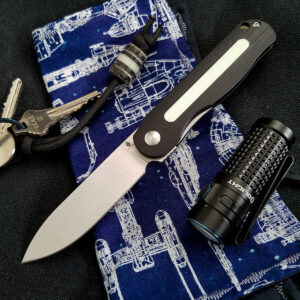 We've heard around the internet that some folks might be calling the Kizer Gage Latt Vind Mini variations on a Star Wars theme. Like, the green one maybe gets called a Bounty Hunter, and the black and white might get called a Storm Trooper. Even if they aren't Star Wars knives, they are incredibly cool looking, fast acting, pocket friendly modern flippers.
The standout feature on this linerlock is, of course, the look. There are two models currently available. There's a black G-10 with a white G-10 inlay and a matching white backspacer, or there's an almost OD Green handle with a burnt sienna (or red) inlay and a yellow backspacer. The G-10 handles are mounted on stainless-steel liners, which keeps the handle thickness down to 0.42". It weighs a mere 2.2 ounces and is 3.875" closed.
Both models have a flat ground 3" N690 spear point blade with a satin finish and a blade thickness of 0.12". It's a manual front or discreet rear flipper riding on a ball bearing pivot. The action is simply superb. It has a quick snap, and either flipper tab is easy to index.
Let's circle back to the pocket friendly factor for just a second. This isn't simply a front flipper. There's a streamlined rear flipper that, at first glance, looks like it might be one of those "fussy" flippers. We were surprised to discover that it's not fussy at all. It's specifically built to function just as well as any of the Big Boy Flippers but with less to snag in your pocket.
Kizer Gage Latt Vind Mini Details
N690, Satin Finish
3" Spear Point
0.12" Blade Thickness
Manual Front Flipper, Ball Bearing Pivot
Linerlock
G-10 Handles
Nested Stainless-Steel Liners
0.42" Handle Thickness
2.2oz.
3.875" Closed
6.875" Overall
The Kizer Gage Latt Vind Mini is slim, pocket friendly front flipper with a fast action and an awesome look. You can pick one up for about $70. To get this knife, click any link in the article or simply click the button below.


All images courtesy of Smoky Mountain Knife Works – smkw.com.