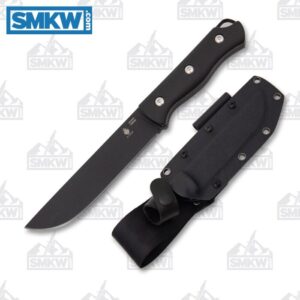 Designed by Justin Gingrich, the Kizer GTI Bush knife is a sturdy bushcrafter that won't break the bank. It has a good steel, a comfortable grip, and a multi-mount sheath. You can pick it up for about $68.
The GTI Bush knife has a black coated 5.05" 1095 carbon steel straight back blade. It's a full tang fixed blade with a full flat grind and a sturdy blade thickness of 0.16". There's a 90-degree spine for use with a ferro rod.
The G-10 handle scales are mounted with Hex bolts which makes for easy maintenance in the field, and they're available in either brown or black.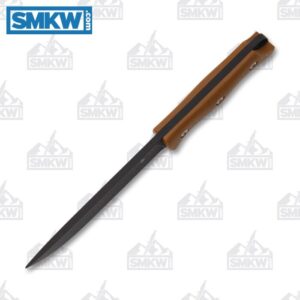 There's a bit of a palm swell, and the edges are eased for comfort which is great if for extended use. With a handle length of a full 4" there's plenty of room for a generous grip, even if you've got large mitts. There's a generous lanyard hole, so if you need that extra bit of length it's sure to be frustration-free event.
This knife comes with an ambidextrous, adjustable multi-mount Kydex sheath. There's a ferro or fire steel loop which is always handy. It has a belt loop attachment as well as a secondary safety strap for excellent retention. The knife alone weighs about 5.69 ounces. The knife and sheath combined weigh about 6.11 ounces.
Kizer GTI Bush Details
1095 Carbon Steel, Black Coated
5.05" Straight Back
0.16" Blade Thickness
Full Tang Fixed Blade
90-Degree Spine
G-10 Handle Scales
Hex Bolt
Lanyard Hole
Multi-Mount Kydex Sheath
5.69oz Knife Weight
6.11oz Knife and Sheath Weight
9.05" Overall
The Kizer GTI Bush knife is a sturdy, well built knife you can pick up for about $68. If you're interested in this knife, click any link in the article or simply click the button below.


All images courtesy of Smoky Mountain Knife Works – smkw.com.