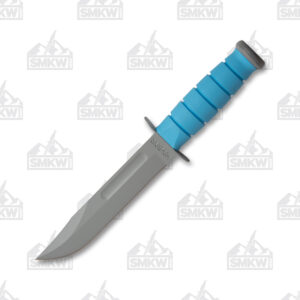 The most popular military fighting knife in US history just got a makeover. We've seen Marines versions, Navy versions, and Army versions, and now there's a Space Force version. The new KA-BAR USSF SPACE-BAR knife has that old familiar shape with a new look that is out of this world. As KA-BAR says, they're introducing the "tried-and-true KA-BAR Fighting/Utility Knife to a post-orbital world."
The KA-BAR USSF SPACE-BAR retains the same shape and size as the popular fighting/utility knife from the brand. It features a 7″ 1095 Cro-Van steel clip point blade with a gray powder coated finish. It's still the full .165″ thick and has that glorious fuller.  It's also marked "USSF" and "KA-BAR" on the tang.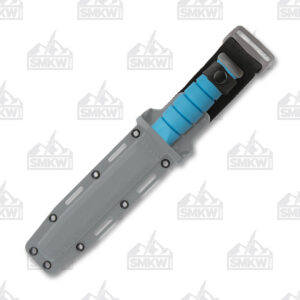 The handle is blue Kraton G that really sells the Space Force look. The guard and butt cap are also the same light gray as the blade.
This fixed blade is 11.75″ overall and weighs in at 10.4oz. It comes with a light gray, hard plastic sheath that is MOLLE compatible.
KA-BAR USSF SPACE-BAR Knife Details
7″  1095 Cro-Van Steel Clip Point Blade
Gray Powder Coated Finish
.165″ Thick
Gray Guard and Butt Cap
Blue Kraton G Handle
Marked USSF/KA-BAR on Tang Stamp
11.75″ Overall
Weighs 10.4oz.
Light Gray MOLLE-Compatible Hard Plastic Sheath
Knife Made in the USA
We knew it had to be coming. KA-BAR does a great job of honoring its history and the US Armed Forces. The KA-BAR USSF SPACE-BAR Knife was a natural fit. If you're interested in getting one of these, simply click any link in the article or the button below.


All images courtesy of Smoky Mountain Knife Works – smkw.com.