Happy New Year! This is the time of year we normally look back at our favorite knives of 2020. We might have stayed awake last night to wave "bye, bye" to 2020, and we might have said, "good riddance" once it was gone. If you're anything near as tired as we are, you'll forgive us for not picking our favorite five this year. Instead, we're going to highlight your favorite five articles from 2020.
#1 – ESEE 3D
Hands down, without question or exception, and by a fairly substantial percentage your favorite story written in 2020* was about the ESEE 3D with contoured handles. We said, "they're textured with ridges that add slip resistance while still being easy on your hands. There's a gentle palm swell…and they're absolutely comfortable in hand." Not only can you get the ESEE 3D in a variety of colors and configurations, we're betting we're going to see a ton more of them in 2021.
ESEE 3D Details
1095 or 440C, Traction Powder Coated
3.88" to 6.5" Drop Point
Full Tang Fixed Blade
Countoured G-10 or Micarta Handle Scales
Exposed Pommel with Lanyard Hole
Molded Polymer or Kydex Sheath with Belt Clip
Made in the USA

#2 – Cold Steel 4-Max Scout
It shouldn't come as a surprise the Cold Steel 4Max Scout was another of your favorite reads. The 4Max Scout sells out almost as fast as it hit the shelves. It's a great knife that's beloved by many, and it's affordably priced compared to the original models. As we wrote in the original article, "The Cold Steel 4Max Scout is still a big honking beastly knife that's built to last. It's a thumb stud opener with a 4" stonewash finished AUS10A drop point blade. This stout folder has a blade thickness of 0.19". It, of course, comes razor sharp straight out of the box."
Cold Steel 4-Max Scout Details
AUS10A, Stonewash Finished
4" Drop Point
0.19" Blade Thickness
Manual Folder
Ambidextrous Thumb Studs
Griv-Ex Handles
Stainless Steel Liners
Ambidextrous, Tip-Up Pocket Clip
Lanyard Hole
10.2 Ounces
6" Closed
10" Overall

#3 – KA-BAR USSF SPACE-BAR Knife
Right smack in the middle of the Your Favorites list is the KA-BAR USSF SPACE-BAR knife. We're not gonna lie, we were surprised this one came in third. It was a long night so we're just going to quote ourselves again here, "The new KA-BAR USSF SPACE-BAR knife has that old familiar shape with a new look that is out of this world. As KA-BAR says, they're introducing the "tried-and-true KA-BAR Fighting/Utility Knife to a post-orbital world." It has the iconic 7" 1095 CroVan blade you expect, but with a gray powder coating. "The handle is blue Kraton G that really sells the Space Force look. The guard and butt cap are also the same light gray as the blade."

KA-BAR USSF SPACE-BAR Knife Details
7″ 1095 Cro-Van Steel Clip Point Blade
Gray Powder Coated Finish
.165″ Thick
Gray Guard and Butt Cap
Blue Kraton G Handle
Marked USSF/KA-BAR on Tang Stamp
11.75″ Overall
Weighs 10.4oz.
Light Gray MOLLE-Compatible Hard Plastic Sheath
Knife Made in the USA

#4 – Kershaw Launch 11
If we were picking favorite knives this year, there's an 88% certainty this would be on the list for us. It was the fourth most read article of 2020. Update: We did finally get it in hand, and it was everything we wanted in life at that particular moment. The Launch 11 is a fantastic, pocket friendly auto with a terrific look and an incredible ride in the pocket.
Kershaw Launch 11 Details
CPM-154, Black-Oxide Blackwash Finish
2.75" Modified Drop Point
Push Button, Out-the-Side Automatic
Black Anodized 6061-T6 Aluminum Handle
Bronze Anodized Pivot Collar
Integrated Backspacer with Lanyard Tie-Off
Ambidextrous Tip-Up Pocket Clip
2.1 Ounces
3.8" Closed
6.75" Overall
Made in the USA

#5 Carbon Fiber Spyderco Autonomy 2
We weren't a bit surprised to see the SMKW exclusive Carbon Fiber Autonomy on the list. It's a limited edition Spyderco, and it's an outstanding knife. Much like the Benchmade 940DLC-180-2, we expect we'll be seeing it on the list for a number of years to come.
As we wrote in the article back in July, "Not only is the Carbon Fiber Spyderco Autonomy 2 fast and fabulous, but it's also a solidly built beefy workhorse with some seriously nice touches. It has a great feel in hand and a powerful opening. This out-the-side, push button automatic knife is available exclusively at Smoky Mountain Knife Works – smkw.com."

Carbon Fiber Spyderco Autonomy 2 Details
CPM S30V, Satin Finished
3.5" Drop Point
0.114" Blade Thickness
Full-Flat Grind
Out-the-Side Push Button Automatic
Secondary Sliding Safety
Carbon Fiber Handles
0.53" Handle Thickness
Skeletonized Stainless Steel Liners, Non-Reflective Black Coated
Open Back Construction
Ambidextrous, Tip-Up Pocket Clip
Lanyard Hole
5.3 Ounces
4.94" Closed
8.44" Overall
Made in the USA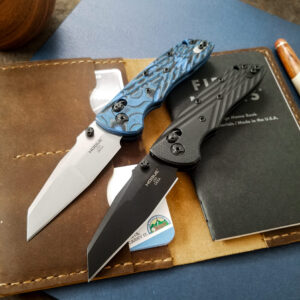 Honorable mentions go to the Marble's D2 Canvas Micarta slipjoints and the Hogue Deka, both of whom not only tied for 6th place, but they were close runners up to the Spyderco. According to the site metrics, a whole bunch of you are using our Prop 65 article to 'splain that "Cancer and Reproductive Harm" sticker. Since we worked very hard on that article, we very much appreciate it.
There you have it. Your favorite five from 2020. We hope you enjoyed it and we hope you stick with us through 2021. May your New Year be joyful, peaceful, and all around better than 2020. If you're interested in any of these knives, just click any link in the article.

All images courtesy of Smoky Mountain Knife Works – smkw.com.

[*Note: Your actual favorite article for the second year in a row was, "The Knives of John Wick." It was written by a dearly departed team member who is no longer with us. He's still alive. He just doesn't work here anymore, and we bitterly miss him every day.]