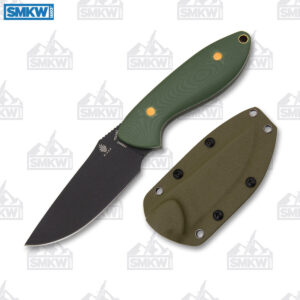 Way back in the day, it was nothing to see a fixed blade on a hip. In fact, it was more common to find a man carrying a fixed blade than it was a folder. Industrialization changed all of that, but the Kizer Sequoia is a good argument to renew the trend. This 8″ fixed blade is stout but not too stout to EDC, and it's stronger than most any folder on the market.
Eric Garza designed this fixed blade while on a trip to the Sequoia National Forest. The trip inspired a knife that was stout enough to handle most bushcrafting and survival tasks, but light enough and small enough for an easy ride on the hip.
The Kizer Seqouia features a 3.78″ 1095 carbon steel blade with a black coating to resist corrosion. This drop point has a nicely jimped thumb ramp for solid grip. This full tang fixed blade is .17″ thick, so it has some heft to it.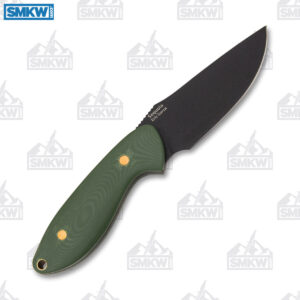 The contoured G-10 handles come in either OD green or black and really feel nice in the hand. The scales are pinned, not screwed on, and there's a lanyard tube that passes through the tang.
At 8.04″ overall, this is the equivalent of a larger mid-sized or full sized EDC. One would think that a full tang knife of this size and thickness would outweigh most full-size folders by a lot, but that's simply not the case. It weighs in at only 5.3oz – which makes it an ounce or two heavier than most full-size folders.
It comes with a matching kydex sheath that fits the Sequoia perfectly. The detachable clip allows you to carry this knife on your hip vertically, horizontally (scout carry), or even lash it to your vest or pouch. We were impressed with the  sheath's hold for sure.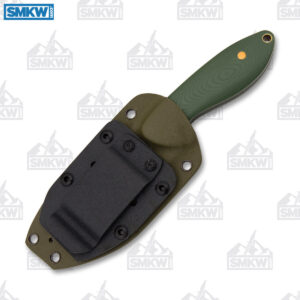 Kizer Sequoia Details
3.78″ 1095 carbon steel blade with black finish
Full Tang Construction
.17″ thick.
Green or black contoured G-10 handles
Lanyard Tube
8.04″ Overall and Weighs 5.3oz
Kydex Sheath with Multi-mount Clip
If you're looking to EDC a fixed blade, we suggest you give the Kizer Sequoia a go. At $85, the price is right for at least a try. If you're interested in getting one of these, simply click any link in this article or the button below.