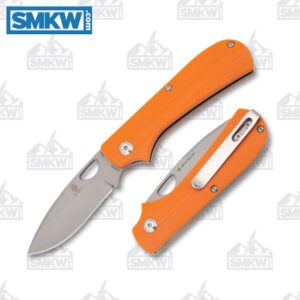 Designed by Mike Vagnino, the Kizer Vanguard ZipSlip is an affordable modern slipjoint with a huge knife innovation. Invented by Tom Ferry and Michael Vagnino in the early 2000s, the Everflush Spring basically modernized slipjoints. It allowed makers tons more flexibility in their material choices and design options. It also allows a slipjoint to be a one handed opener, and who doesn't love that. How does it work? Well, basically they split the backbar in half and put in an internal spring spring that's held in place by the backbar. The tang of the blade rides along that spring until it meets the upper tang stop. This makes for a smoother, easier open and less wear on your knife. It also enables the use of modern construction and other modern features like one-handed opening with a thumb hole opener.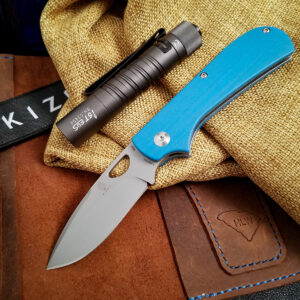 The ZipSlip features a 2.84" N690 drop point blade with a satin finish and a blade thickness of 0.12". It smoothly and easily opens with a thumb hole. It has half stops to help protect your digits and a generous forward finger choil.
The handles on this modern slipjoint feature screw construction on the G-10 handles. That makes care and maintenance of your knife super easy. It has a fairly comfortable grip and is perfect for small and medium-sized hands. It's available in three different colors – black, orange, and blue. It has a removable tip up pocket clip. It's 3.54" closed and weighs 3.16 ounces.
Kizer Vanguard ZipSlip Details
N690, Satin Finished
2.84" Drop Point
0.12" Blade Thickness
Slipjoint
Half Stops
Everflush Backbar
Thumb Hole Opener
G-10 Handle Scales
Tip-Up Pocket Clip
3.16 Ounces
3.54" Closed
6.38" Overall
The Kizer Vanguard ZipSlip is a modern slipjoint with innovative tech. It's a solid, reliable knife you can pick up for about $69. If you're interested in this knife, click any link in the article or simply click the button below.


All images courtesy of Smoky Mountain Knife Works – smkw.com.