Outdoor Edge makes some of the most reliable, well-built, and sharp replaceable blade knives on the market. These replaceable blade knives are such a useful tool to have while hunting, because they enable you to always have a sharp blade when you need it. When Outdoor Edge made the Razor-lite, they did a fantastic job making an affordable and easy to use system that any hunter could benefit from.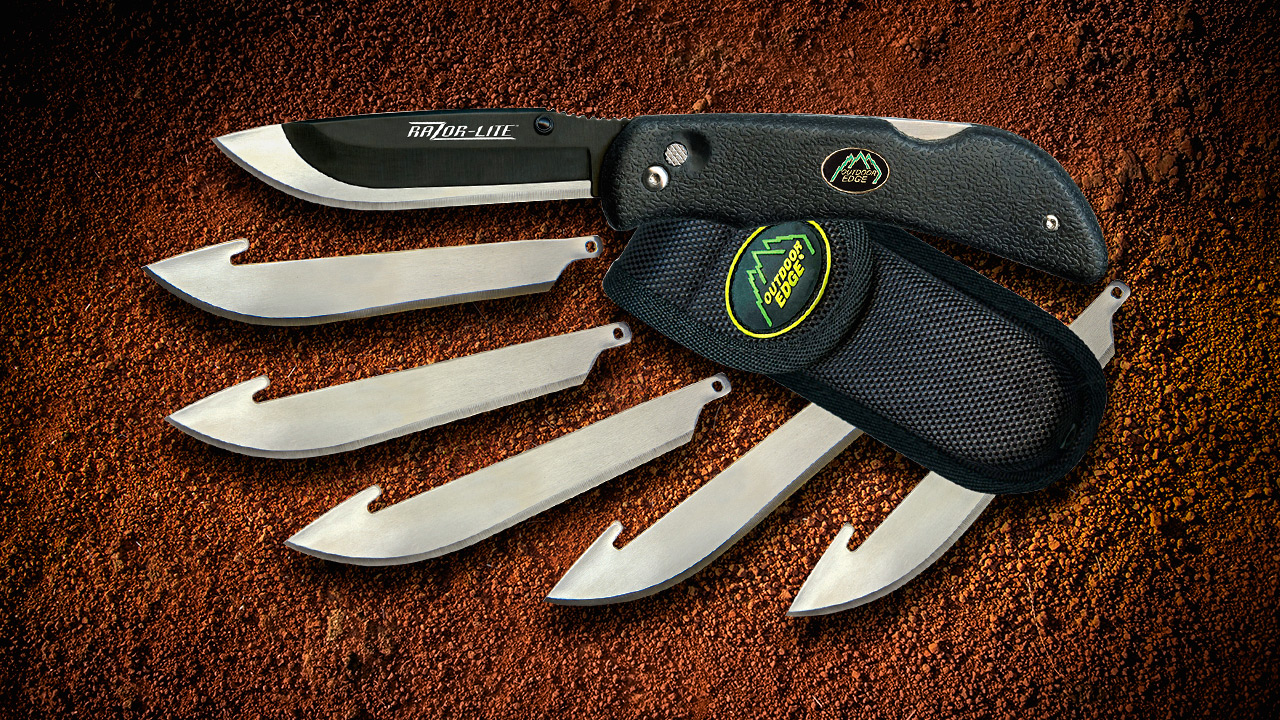 The blade replacement mechanism on the Razor-Lite is quite easy to use. Simply press the blade release button on the handle and the old blade slides out, then replace it by sliding a new blade in its place. This tool-less and simple system is great for hunters working deep in the Outdoors. It allows hunters to carry less weight in sharpening supplies or tools to change blades, also it's quick and simple enough to be used in low light or wet conditions without posing a danger to your fingers.
Outdoor Edge uses some quality materials in the Razor-Lite's construction. The six blades you get with the knife are 420J2 Japanese stainless steel. This steel is great at holding an edge but more importantly it's very corrosion resistant, so it has no problem performing in the toughest conditions. The blades that come with the Razor-Lite can be resharpened, but once they are past their service life, you can easily purchase a pack of six more.
The handles of the Razor-Lite are just as resilient as the blades. They are made of black rubberized krayton which provides an impressive grip. The wonderful thing about the rubberization of the handle is that even if its soaked you don't have to worry about your hand slipping off the handle. The handle is ergonomic in your hand with a comfortable finger guard, and the lock back is housed seamlessly in the spine.
Click any image below to launch a slideshow of larger images.
The nylon sheath that is included with the Razor-Lite is heavy duty. Its robust construction uses a snap to secure the items within and can be mounted vertically or horizontally. The interior has two compartments, one to house the knife and another to house the spare blades. That's a big deal, because you can easily access your spare blades without having to dig through your pack.
The Details
420J2 stainless steel
Black krayton handles
Six replaceable blades
Nylon sheath
3 ½" blade length
4 ½" closed length
The Outdoor Edge Razor-Lite is an incredible addition to any hunter's essentials. These knives are built to last and stay sharp in the harshest conditions. You can find the Razor-Lite at Smoky Mountain Knife Works (smkw.com) for $39.99, and you can pick up the extra six blades for $11.99. Simply click the buttons below to find them.