Stop laughing, and hear me out. Everyone picks their EDC knife based on their own preferences. I've seen people EDC everything from cleavers to bayonets. The Marble's 4″ Hatchet is the perfect EDC for axe lovers everywhere. This hatchet may be small, but it can easily come in handy for many EDC tasks, and because it's small, it doesn't take up too much room.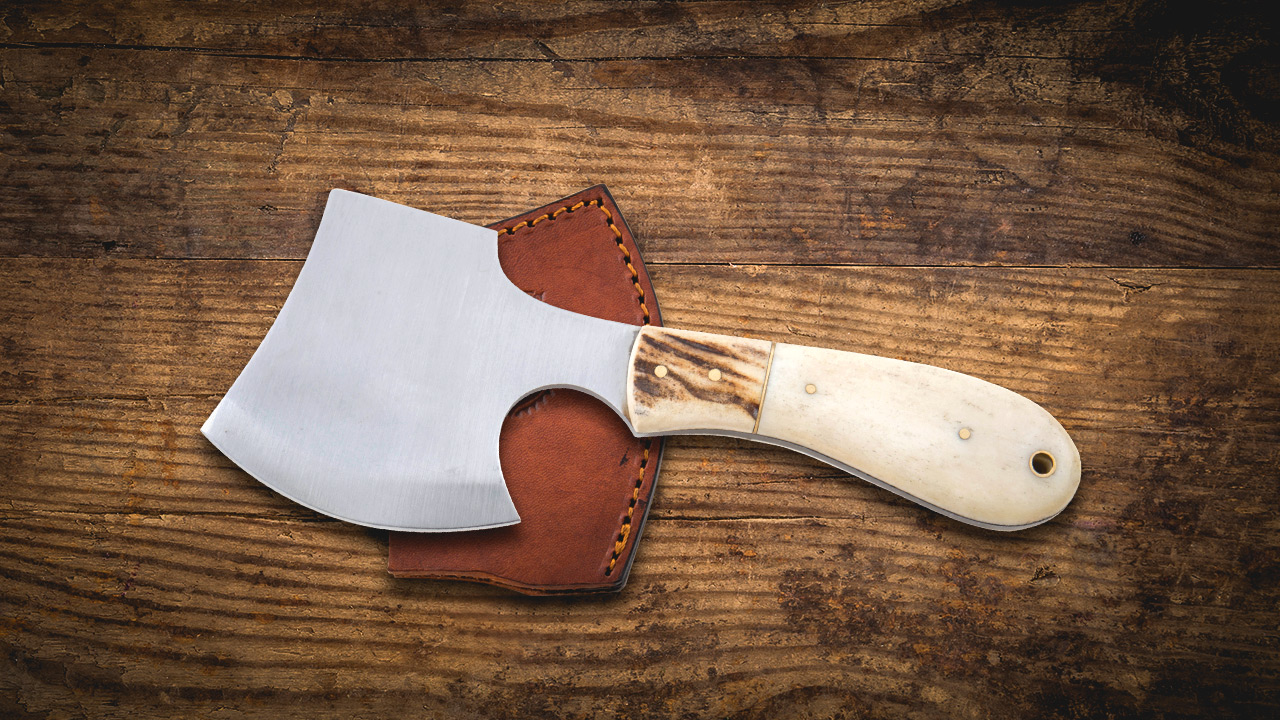 Marble's 4″ Hatchet features a small axe head with a 3″ cutting blade. The reverse of the head has a standard flat grind section that works as a small hammer. Its 440A stainless blade is great for use in wet and dry conditions alike. This hatchet won't fell a tree, but it can certainly make light-work of cutting cardboard boxes and other tasks one might encounter.
The handle is short enough to provide a good grip while maintaining a reasonable EDC length. Marble's makes the handle out of genuine smooth bone with brass accents. The bone has a jimmped section and a smooth section that helps you keep a firm grip on the smaller handle. Marble's also placed a lanyard hole in the base of the handle to help secure the hatchet while in use.
This little guy comes with a minimalist sheath that's perfect for EDC use. This genuine leather sheath has a single brass snap to secure the blade. The leather is embossed with Marble's moose logo. It secures to your belt loop, and your blade is only one snap away.
The Marble's 4″ Hatchet Details
440A stainless head
Genuine Smooth bone handle
Brass pins and spacer
Leather belt sheath included
3″ Cutting surface
4″ Head
7 3/4″ Overall length
The Marble's 4″ Hatchet is the hatchet for those who wish they could EDC their standard size hatchet. Its scaled down size makes it convenient to take anywhere. The best part about this little guy is that its affordable to anyone. We found it for $19.99 at Smoky Mountain Knife Works (smkw.com). You can find this model by simply clicking the button below.