The Mtech Ballistic Rescue Tanto has all the features we want at a budget friendly price. There are tons of rescue knives flooding the market today. Most of them feature strap cutters, glass breakers, partially serrated edges, and quick openings. The problem is that these knives can often get expensive quickly. However, the Mtech Ballistic Rescue Tanto is a different story. This knife has all the features of a $100 knife but at the affordable price of $9.99. This is one Mtech that's certainly worth checking out.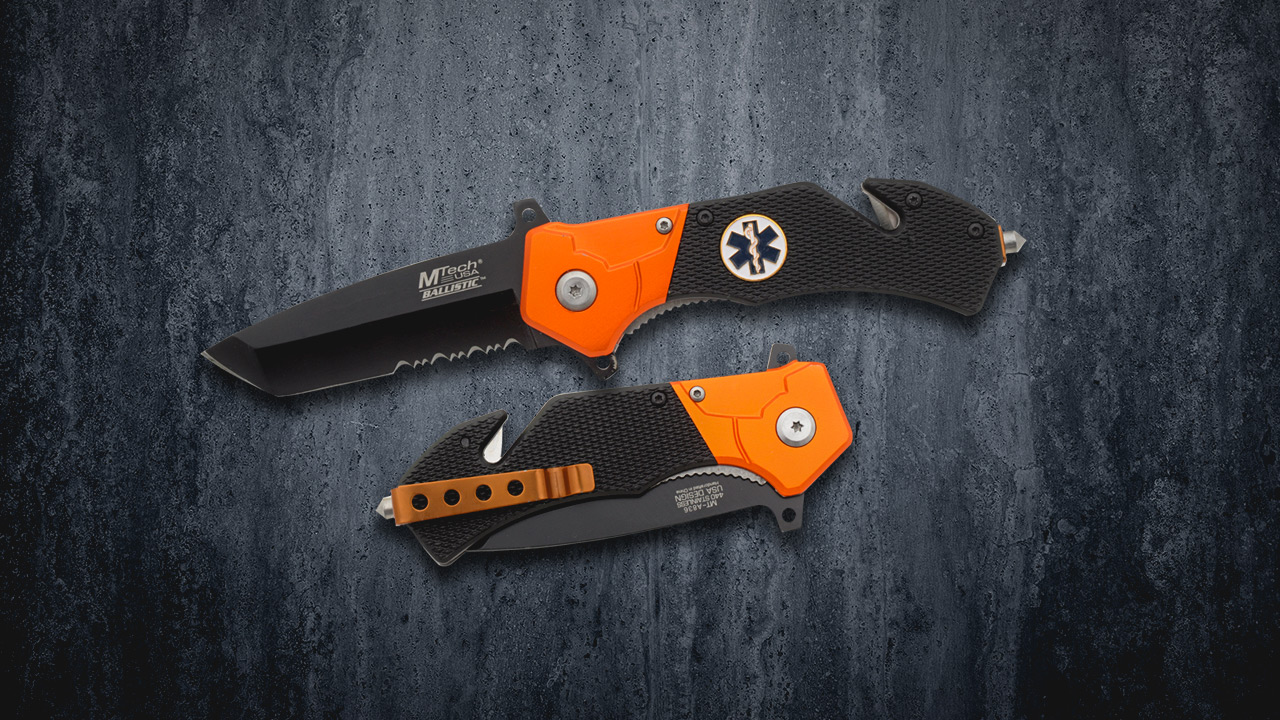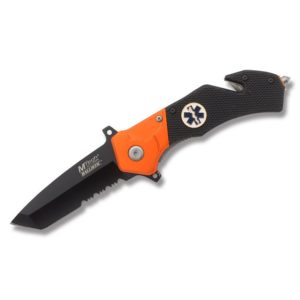 Let's talk about functionality. The Mtech Ballistic Rescue Tanto has a 3 1/4″ partially serrated, 440 stainless steel blade. The steel holds a decent edge and boasts incredible corrosion resistance. It's black coated to help provide additional protection since rescue knives are often used in less than ideal environments.
The Ballistic Rescue Tanto also comes with a strap cutter integrated into the handle. This is great for making quick work of a seat belt without ever having to deploy the blade. These knives also have a glass breaking tip located on the base of the handle. These two additions are the most popular features desired on rescue knives, but Mtech wanted to take it a step further. This knife has a spring assist flipper and also a pocket launching system that's similar to the Emerson Wave. This drastically cuts down on your deployment time, especially with one-hand use.
The handle is every bit as durable as the blade. The handles feature two materials to provide durability and good grip. They are made from anodized aluminum and a checkered ABS plastic section. The center of the handles feature a recessed metal shield that represents different emergency services. You can get a blue handle with a police shield, an orange handle with EMT shield, or a red handle with a fire rescue shield.
The Mtech Ballistic Rescue Tanto details
440 Stainless blade
Anodized Aluminum and ABS handles
Glass breaker
Strap cutter
Spring assist
Linerlock
3 1/4″ Tanto blade
4 7/8″ Closed length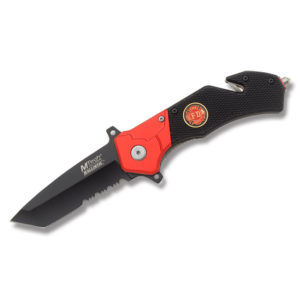 The Mtech Ballistic Rescue Tanto is an impressive knife for $9.99. With the included features found on these knives, this knife should be selling for quite a bit more. I'm not going to say this knife is perfect, but it's certainly a great deal for the price. We found these knives at Smoky Mountain Knife Works (smkw.com). Simply click the button below to see them.