Traditionally, online stores have their biggest Christmas sales available the Monday after Black Friday, but SMKW.com didn't wait. They started their Black Friday/Cyber Monday the 20th and the specials will run until 11:59pm (EST) Monday the 27th. SMKW has set up their sales to reward you for the total amount of your purchase. In fact, they have a 4-tier system this year that starts at only $75.  Here's what will happen as you reach each of the tier levels.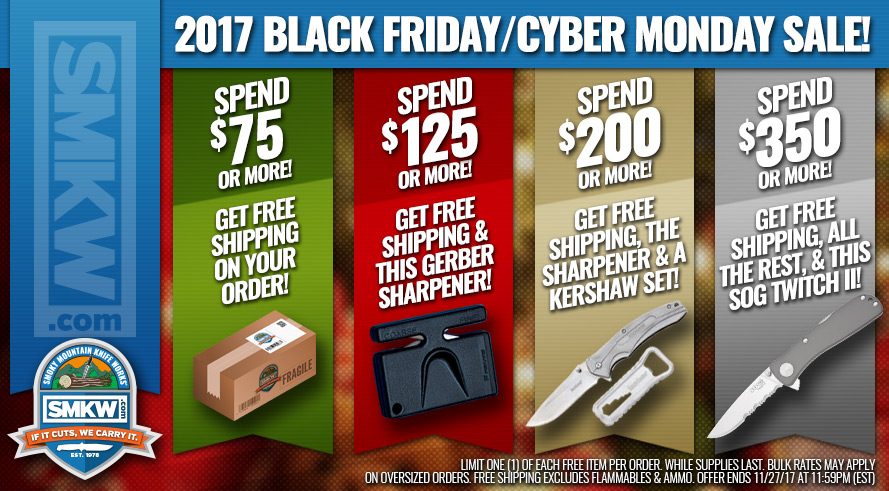 Tier One – Spend $75 or more 
If you spend $75 or more on your online order, SMKW will provide standard shipping for free. Orders from SMKW usually arrive in 3-5 business days via USPS.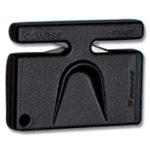 Tier Two – Spend $125 or more
If you spend $125 or more, you'll receive free shipping and SMKW will throw in a free Gerber Pocket Sharpener. This name-brand sharpener could make an excellent addition to any knife lover's stocking this Christmas.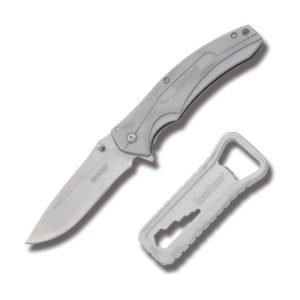 Tier Three – Spend $200 or more 
If you spend $200 or more, you'll receive free shipping, the Gerber Pocket Sharpener, and  a free Kershaw KBO Set. The Kershaw KBO assisted-opening knife is nothing to sneeze at. It's a 8.375″ assisted opening flipper with a 3.75″ 8Cr13 stainless steel blade. The handles are also stainless steel and then entire knife has a stonewash finish. If that wasn't enough, it also includes a stonewash, stainless steel bottle-opener/wrench tool for your pocket. This Kershaw set normally retails for $14.99.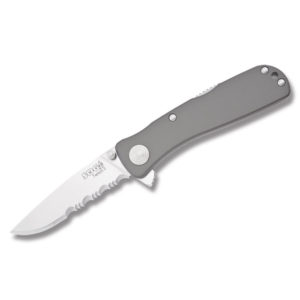 Tier Four – Spend $350 or more 
If you spend $350 or more, you'll receive free shipping, the Gerber Pocket Sharpener, the Kershaw set, and a free SOG Twitch II. TThe SOG Twitch II with Partially Serrated Blade opens easily with just a "twitch" of your finger. Invented by Spencer Frazer, the Twitch boasts a pass-through lockbar for the blade kick. Press the kick, and then the SOG Assisted Technology (S.A.T.) takes over. This 6.25″ assisted-opening knife features a 2.75″, partially serrated AUS-8 stainless steel blade, as well as a flipper, thumb studs, a pocket clip, and aluminum handles. It normally retails at $39.99.
Door Busters
SMKW.com tells us that they'll have door buster pricing on several additional items on Black Friday and Cyber Monday, but they wouldn't tell me what the specific items would be. You'll have to visit https://www.smkw.com to find out.