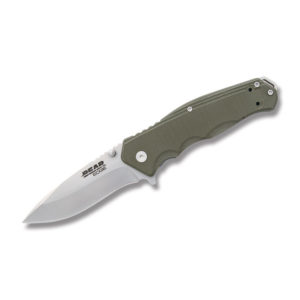 Bear Edge, a division of Bear & Son Cutlery, produces tough, affordable, more modern knives, including the Bear Edge Sideliner. This 7 7/8″ manual flipper offers a 3 3/8″ heavily swedged drop point blade. It's "built in America" and makes for a good, no-nonsense everyday carry.
The Sideliner truly is a no-nonsense kind of knife – no exotic materials here. The 440 stainless steel, drop point blade has a high grind and a heavy top swedge. It's 1/8″ thick and offers a manual flipper and ambidextrous thumb studs for opening. The slighty recurved blade makes it a bit harder to sharpen, but gives you a little more belly to work with.
Jimping on the spine of the Sideliner traverses both the blade and the handle which allows for an excellent grip. The "Sideliner" lock in the Sideliner locks the blade into the open position and can be easily closed one-handed.
The 4 1/2″ sculpted G10 handle feels solid in the hand and is easy to hold onto. The removable/reversible tip-up pocket clip makes the Sideliner easy to carry and easy to pull. Combine that with the manual flipper, and you've got an EDC you can quickly pull, open and use – all with one hand. The handle is rounded out with a built-in, steel lanyard bail.
Bear Edge Details
440 stainless steel blade with flipper
3-1/4″ drop point blade
Blade thickness: 1/8″
Ball bearing washers
Ambidextrous Thumb studs
Sideliner Lock
Spine Jimping
OD green G-10 handle
Reversible/removable tip-up pocket clip
Lanyard hole
4-1/2" closed
7 7/8″ Overall
Built in the USA
In the end, the Bear Edge Sideliner is an affordable, tough little EDC that will run you about $45, not bad for an American built Bear. If you're interested in getting one, you can click any link in this article or simply use the button below.