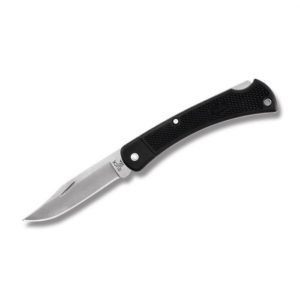 The Buck 110 Folding Hunter has been one of the top selling knives of all time, and now Buck offers the Buck 110 LT Folding Hunter, a no-nonsense, lightweight version of the classic 110.  This made-in-America Buck ditches the traditional brass/stainless bolsters and wood found on the original 110 for a glass-filled nylon handle, but it keeps the blade and locking mechanism in tact.
The Buck 110 LT still features a 3.75″ 420HC clip point blade and a lock back mechanism. The knife itself is still 4.875″. In fact, other than the handle configuration, the Buck 110 LT is the same as any traditional Buck 110. Only the handle has changed, and that drastically reduces the overall weight of the 110.
A standard Buck 100 weighs in at 7.2oz, while the 110 LT weigh less than half that at 3.02oz. That makes for a very strong, very light carry in your pocket or on your next hunting trip. As Buck tells us, "…the LT is created with lightweight molded nylon, drastically reducing its weight while maintaining the same quality as the original Folding Hunter®." That makes the 110 LT not only light, but also impact resistant, easy to grip, and easy to clean. Let's look at the details.
Buck 110 LT Folding Hunter Details
3.75″ Clip Point Blade
420 HC stainless steel
Lockback
Glass filled nylon handle
Lanyard hole
4-7/8″ closed
3.2oz
Black heavy duty polyester belt sheath
Made in the USA.
The kicker for the Buck 110 LT is the price tag. While standard Buck 110's will run you upward of $40, the American-made Buck 110 LT runs just over $25 – some $15 less. If you're interested in getting one of these, you can click on any link in this article or simply click the button below.