I can't get enough of Dmitry Sinkevich's knives. They look, feel and function great, and the new Dmitry Sinkevich-designed Kershaw Atmos is no exception. It's an EDC flipper that's part of Kershaw's new 2018 lineup, and if you get a chance, put one in your hand and play with it.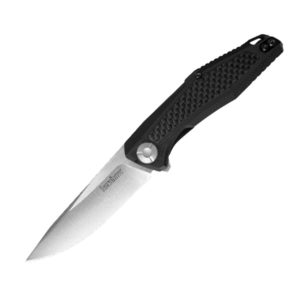 The Kershaw Atmos is a 6.9″ manual flipper with Kai's KVT ball-bearing opening system. It's adequate size makes it perfect for everyday carry (not too big not too small). The 3″ 8Cr13MoV stainless steel modified drop point blade features the sleek lines we've come to love in Sinkevich knives. The grinds have a satin finish and the flats have a satin sanded finish, which give the blade some aesthetic depth when you hold it in the light.
The Atmos' handle features the same clean and practical lines Sinkevich is known for and includes a carbon fiber inlay on top of G10 scales. As Kershaw tells us, "[we] chamfered—smoothed and angled—the edges of the insert to make sure it feels comfortable when you hold it in your hand and that it glides into and out of your pocket smoothly and easily, too."  Beyond the handle, the Kershaw Atmos also features a custom oversized pivot, a backspacer with wide lanyard attachment, and a reversible, deep-carry pocketclip.
Kershaw Atmos Details
KVT ball-bearing opening
Flipper
Inset liner lock
Reversible deep-carry pocketclip (right/left, tip-up)
Lanyard hole
Steel: 8Cr13MoV, satin finish with satin sanded flats
Handle: G10 with carbon fiber overlay
Blade Length: 3 in. (7.6 cm)
Closed Length: 4 in. (10.2 cm)
Overall Length: 6.9 in. (17.5 cm)
Weight: 2 oz. (59 g)
The Sinkevich-designed Kershaw Atmos makes an excellent EDC knife for a multitude of reasons. Kershaw says they'll be out soon. If you want to get your hands on one, simply click the links in this article or the button below.