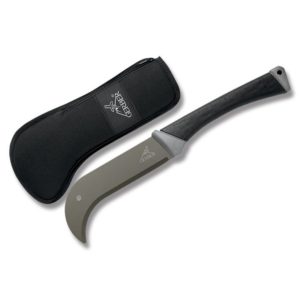 The winter is the perfect time to clear out brush on your property, and the Gerber Gator Brush Thinner was designed to make that task as easy as possible. Its unique curved blade and comfortable handle make short work of everything from vines to briar patches. If you've been procrastinating cleaning out some brush, the Gerber Gator Brush Thinner will get you back on track.
The blade on the Brush Thinner is designed like a traditional billhook, a traditional cutting tool used widely in agriculture and forestry for cutting smaller woody material such as shrubs and branches. This curved design cuts and rips at the vines while you swing. It also channels more material to the cutting surface of the blade. The bottom line is that you cut more material per swing.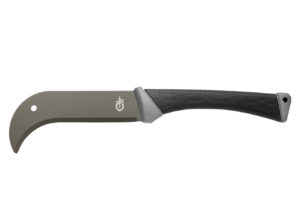 The PTFE coated carbon steel is the perfect steel for this tool. Carbon steel is durable to impacts without fear of chipping while maintaining an ease of sharpening in the field. The PTFE coating protects the steel from moisture found in vegetation that would otherwise rust the blade. Gerber also added a drain hole to the back of the blade to help throw moisture off the blade while you swing.
Gerber's gator grip handle is one of the more comfortable machete handles on the market. The grip consists of a hard polymer handle with a rubberized gator grip over mold. Most of the impact shock from hitting thicker foliage is absorbed by the handle. This makes the task of clearing a large area more enjoyable and less fatiguing.
The Gerber Gator Brush Thinner comes with a ballistic nylon belt sheath. This material is durable and wont snag on brush out in the field. It's a basic sheath in regards to appearance, but it does feature a polyethylene liner and secure zipper closure.
Gerber Gator Brush Thinner Details:
PTFE coated carbon steel blade with drain hole
Gator Grip handle
Lanyard hole
9 1/16″ Blade length
1/8″ Blade thickness
2 3/16″ Blade width
19 9/16″ Overall length
Ballistic nylon belt sheath included
The Gerber Gator Brush Thinner is a valuable tool for maintaining your property, and its available online for just under $30. That's a steal for this piece of equipment. You could spend an afternoon whacking away at your brush with a standard machete, or you could make quick work of the task and move onto other things. If you're interested in getting the Brush Thinner, you can click any link in this article, or simply click the button below.