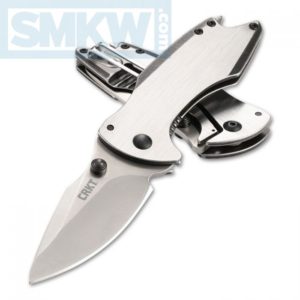 It's almost time for backyard brews and barbecues. Including the sturdy bottle opener on the 2Cr13 stainless steel handle (with Black Stonewash Accents), a tip-up pocket clip, and ambidextrous thumb studs, the CRKT Largo Folder is a great little knife to toss in your pocket for that very purpose.
CRKT tells us, "Designer Eric Ochs grew up in the Pacific Northwest—in the woods, the rivers, and the valleys that occupied his backyard. Inspired by a slower tempo of living, he designed the Largo™ everyday carry folding knife replete with a bottle opener. Because if there's one thing that the 'upper left' does almost as well as its outdoor adventure, it's the micobrews."
Featuring a 2.5" satin coated, 5Cr15MoV stainless steel, drop point blade, the Largo Folder is a compact, easily carried knife.  Our favorite feature of this knife is CRKT's Outburst assisted opening mechanism.  Give the thumb stud a flick and it opens easily. The blade is propelled into the fully open position in less than a blink of an eye, and locks open with a hefty frame locking mechanism.
CRKT Largo Folder Details
5Cr15MoV, Satin Finish
2.542″ Drop Point
0.107″ Blade Thickness
2Cr13  Stainless Steel Handle with Black Stonewash Accents
Assisted Open with Ambidextrous Thumb Studs
Folder with Frame Lock
Tip-up Pocket Clip
3.576″ Closed
6.125″ Overall
3.6 oz Weight
This CRKT Largo Folder is a fun little knife that would be great to have in your pocket this summer. To find this knife, click any link in the article or simply click the button below.