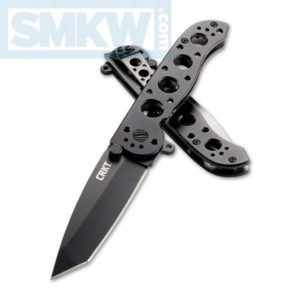 In tribute to the late Kit Carson who popularized the flipper and designed the original version of this knife, the CRKT M16-02KS has been re-released, updated, and upgraded. It has a better steel, a slightly slimmer frame, and it's a little bit lighter.  About these updates, CRKT says, "Homage: Paid. The M16 is the most popular series that CRKT has ever seen. We're humbled to do right by the revered Kit Carson with this new frame-lock iteration of a legendary tactically inspired everyday carry folding knife. This one is more than just a fresh take on a classic. It's a true tribute to one of the greats."
The CRKT M16-02KS features black oxide finished 3.05" tanto blade made of 12C27 Sandvik steel. They've thinned the black 2Cr13 stainless steel frame out just a little bit, so it's a little bit slimmer and a touch lighter which makes for an easier carry. Additionally, CRKT has changed the locking mechanism to just a single simple frame lock, and it opens via the Carson Flipper Opening or the ambidextrous thumb studs.  It also features a fully adjustable, reversible pocket clip, which lets you mount the clip in four different positions.
CRKT M16-02KS Details
12C27 Sandvik
3.057″ Tanto, Black Oxide Finish
2Cr13 Stainless Steel Handle
Folding Knife w/Frame Lock
Carson Flipper Opener
Ambidextrous Thumb Studs
Reversible Pocket Clip
4.299″ Closed
7.313″ Overall
The M16 series is also available with a 3.8″ tanto blade or a 3.5″ dagger blade. If you're interested in the CRKT M16-02KS, click any link in the article or simply click the button below. If you'd like to see them all, click the "see them all" button below.



Images courtesy of Smoky Mountain Knife Works – smkw.com.