Here are two badass CRKT axes from designer, and part of CRKT's Forged by War program, Elmer Roush of Brasstown, North Carolina. As always with products that are part of CRKT's Forged by War program, CRKT donates 10% of their net profits of these items to the veteran's charity of choice, which, in this case, is the Green Beret Foundation.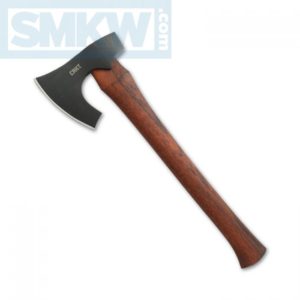 One axe is a highly functional and pragmatic badass axe that easily stows in your gear.  The other axe will make you want to fling it around the back yard while pretending to be Floki  (which my editor says you shouldn't do). CRKT also agrees with his sentiment, "Although we know the temptation is great, we do not advise throwing this specific tool for safety and potential void of warranty reasons."
First off, let's talk about the CRKT Freyr Axe.  The iconic Skeggöx (bearded) axe typically dates to the Viking age. It was used both as a tool and as a weapon.
As a tool, it has more than a fair amount of utility. It is, of course, meant to chop wood but this design lets you shave or plane wood by choking up on the handle.  This design allows an increased cutting edge with a decreased weight. The narrow beard lightens the weight of the axe, and the long bit enables an incredibly long slice. As a weapon, the iconic hook design would have been useful in battle to disarm or de-shield opponents – but we don't recommend de-shielding or disarming your fellow campers with it.
The CRKT Freyr Axe features a 4.528" cutting edge, hot forged out of 1055 carbon steel that is coated with magnesium phosphate. The 16" handle is Tennessee Hickory, which is known to be one of the harder of the hardwoods.  What all that means is that this axe is badass.  The steel used is impact resistant, the coating increases corrosion resistance, and the handle will resist breaking. And let us not forget – Viking.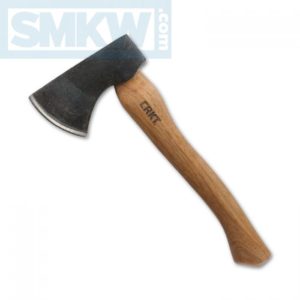 The CRKT Pack Axe is smaller and lighter than the Freyr, but it is no less badass. CRKT tells us it's "[v]eteran designed, tested, and approved. Elmer Roush spent 18 months in Vietnam. So when his vision for a new axe comes to fruition, it's inspired by more than just aesthetics. The Pack Axe is refined down to the minute details and wilderness ready on every last level."
Hot forged and hammer finished, this 1060 carbon steel axe is just a little tougher and just a little smaller than the Freyr, which frankly makes it perfect for all your outdoor summer camping needs.
The CRKT Pack Axe features a 2.927" axe head and durable Tennessee Hickory handles. With a length of just under a foot and weighing just over a pound, this axe won't be an overly burdensome addition to your gear.
CRKT Freyr Axe Details
1055 Carbon Steel, Hot Forged
4.528″, Magnesium Phosphate Coated
Tennessee Hickory
Beard Axe
16″ Overall
1 lbs 12.7 oz
CRKT Pack Axe Details
1060 Carbon Steel, Hot forged
2.927", Lacquer Finished
Tennessee Hickory Handle.
Compact Pack Axe
11.25″ Overall
1 lbs 2.3 oz
For those who are the hiking, camping, enjoying the outdoors types, you can't go wrong with either of these CRKT Axes.  For those who are more the pretend-to-be-Viking types, remember both our editor and CRKT advises against flinging axes, even if it seems like a good idea at the time.  If you're interested in these axes, click any link in the article or simply click the button below.


All images courtesy of Smoky Mountain Knife Works – smkw.com.