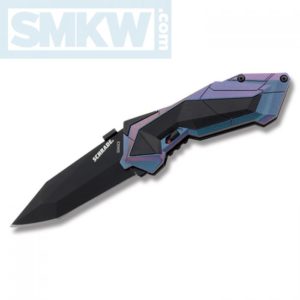 For just under $15, you can get a ton of features and a variety of choices with the Schrade M.A.G.I.C. Linerlock.  You have a choice of the more sedate black and grey models with either a partially serrated blade or a plain edge blade. There's also the flashier plain edged, blue and purple ColorShift model with a black blade. This model changes color depending on how it's held. In one light, it's blue. In another, it's purple. Any way you go, you're still going to spend less than $15 to get one.
These knives are simply loaded with features. They each have a coated 4034 stainless steel, clip point, tanto blade, multiple safety features, stylish aluminum handles with rubberized inserts, and multiple methods of deploying the assisted opening mechanism.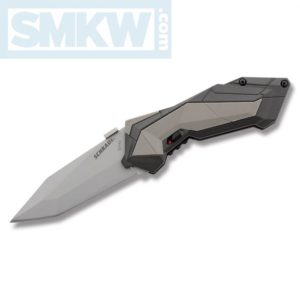 The assisted opening on each of these knives is activated by either the thumb plate or the flipper. The thumb plate is not so big it snags in your pocket, but it's plenty big enough to find even when your fingers are frozen numb.
Additionally, the action on these knives is indeed fast and smooth.  Schrade tells us, "M.A.G.I.C. stands for Multipurpose Assisted Generational Innovative Cutlery. M.A.G.I.C. refers to the dual patented revolutionary assisted opening mechanism that is an integral part of this series of knives."
For the price point, these knives have a nice build quality.  With soft grip inserts in the aluminum handle, they feel solid and comfortable in your hand.  This linerlocking series has a safety feature that's literally a safety – just like on a gun. You can clearly see whether your knife is securely locked or not. This all but eliminates the fear of accidental opening.
Schrade M.A.G.I.C. Linerlock Details
4034 Coated Stainless Steel
2.9″ Clip Point Tanto
Aluminum With Rubber Inserts
Thumb Plate and Flipper Spring Assisted Opening
Tip-up Pocket Clip
Linerlock
Safety Lock
4.4" Closed
7.3″ Overall
4.9 oz
At just under $15 each, the Schrade M.A.G.I.C. Linerlock is an exceptional value. We don't expect they'll last long at that price. If you're interested in any of these knives, click any link in the article or simply click the button below.