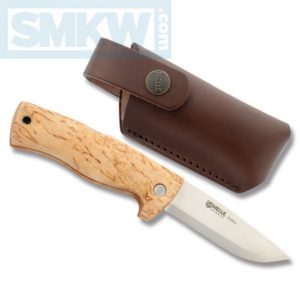 We swear this time we're going to resist having fun with the name Helle. We're not going to snicker like eight-year-old boys with phrases like, "what the Helle" or "it's a Hella awesome lockback!" Nope. We're gonna be good this time. Straight news, with a straight face. Why? Because Helle makes a gorgeous knife, and this was their first folder. The Helle Dokka Lockback is gorgeous and is everything you expect from a Helle knife – plus it's a folder.
The sturdily built Helle Dokka Folding Lockback has a beefy stainless-steel frame and a substantial pivot. This results in a folder that is incredibly durable, and capable of accomplishing the tasks of most fixed blade knives.
The opening is smooth, and the Dokka's sturdy lockback secures the blade once it's open. There's a nice amount of tension in both the lock and in the opening.
As you'd expect, the Helle Dokka features a 3.5" mirror polished, triple laminated stainless steel. The core is high alloy steel for a lasting, razor sharp edge. The added two layers of 18/8 stainless steel protects the knife from rust and breakage.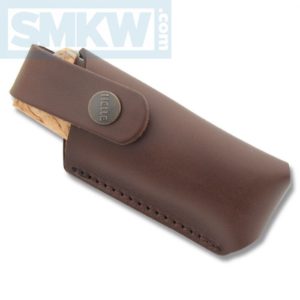 The curly birch handles are gorgeous. They're slightly larger than the average folding lockback. This is great because it means you have plenty of area to grip the knife, and it fills the hand nicely. Just in case you worry about dropping your Dokka, it also has a lanyard hole to strap it on if you want, and it includes a cleaning cloth in case you do.
Finally, the Dokka comes with a beautiful saddle leather sheath. This sheath has an integral belt loop attachment and a snap enclosure.
Helle Dokken Details
Triple Laminated Stainless Steel
3.5" Drop Point, Mirror Polish
Curly Birch
Manual Folder
Nail Nick Opener
Lockback
Lanyard Hole
4.625" Closed
8.125" Overall
Leather Sheath with Belt Loop Attachment
4.55 Ounces
Made in Norway
Overall, the Hella Dokken is a Helle fine knife. It has all the things you love about Helle Knives…and it's a lockback folder. If you're interested in this knife, click any link in the article or simply click the button below.


All images courtesy of Smoky Mountain Knife Works – smkw.com.