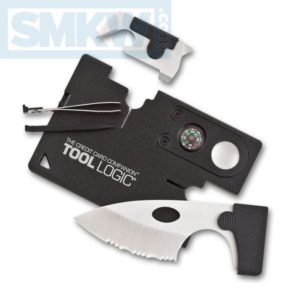 The Tool Logic Credit Card Companion is a multi-tool about the size and thickness of a credit card. This great addition to your wallet weighs in at a mere 1.3 ounces and features nine different functions. The fact that you can pick it up for less than $10 makes it easy to add to your everyday carry and forget it til you need it.
Unlike a lot of small multi-tools, the Tool Logic Credit Card Companion features a 2" stainless steel drop point with a partial serration. It also has a combination pry bar, bottle opener, awl, and flat screwdriver. There's a magnifying lens and compass, as well as tweezers and a toothpick. And in case you need to measure something or tie it on for safekeeping, it has a 3 inch/6-centimeter ruler and a lanyard hole.
Tool Logic Credit Card Companion Details
2" Partially Serrated Drop Point
Combination Pry Bar/Bottle Opener/Awl/Flat Screwdriver
Tweezers
Toothpick
Magnifying Glass
Compass
3 Inch Ruler
6 Centimeter Ruler
1.3 Ounces
At only $10, the Tool Logic Credit Card Companion is an outstanding value for a useful, lightweight multitool. If you're interested in this tool, click any link in the article or simply click the button below.


All images courtesy of Smoky Mountain Knife Works – smkw.com.