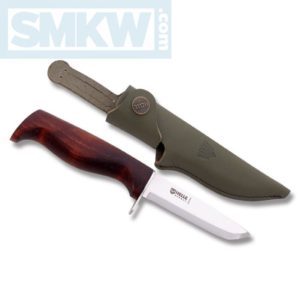 If you've never owned a Helle knife, the Helle Speider is  a great place to start. It's simple. It's gorgeous, it will last a lifetime, and you can get one for about $65 (that's a steal).
It's no secret that we love Helle Knives. We love Helle knives not just because of the name, we love that they're great knives. They're stunningly beautiful and razor sharp. With approproiate care, they will last just about forever.
The Speider features a 3.5" mirror polished,  Sandvik 12C27, drop point blade. It's triple laminated steel with a Scandi grind, so it's tough and it's easily sharped and maintained.
The curly birch handles are exquisitely finished and have been contoured for a great feel in the hand. The stainless steel guard keeps your hand from slipping while you're working with your knife, and the Helle Speider comes with a branded leather sheath that has a belt loop attachment.
Helle Speider Details
12C27 Triple Laminated Stainless
3.5" Drop Point, Mirror Polish
Curly Birch Handle
Leather Sheath with Belt Loop Attachment
7.875" Overall
Made in Norway
If you've never owned a Helle knife, at only $65 the Helle Speider is a great place to start. To get this knife click any link in the article or simply click the button below.


All images courtesy of Smoky Mountain Knife Works – smkw.com