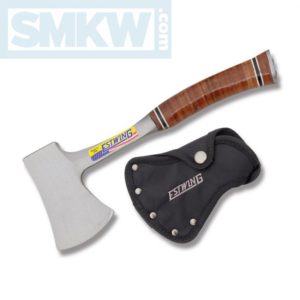 We've all heard of Estwing Sportsman's Axe model 24A because they've been around forever, but they've become so ubiquitous we had no idea exactly how long they'd actually been around or much of anything about them. So, we started looking up information about the Estwing Manufacturing Co., and frankly, it's fascninating.
According to a 1945 article in the Rockwood Morning Star, Ernest O. Estwing arrived in the US from Oland, Sweden in about 1900. He bought a set of machinery books through an installment agreement for $25. With those books, he taught himself both the English language and the machinists trade. He made a notation in his notebook at that time that the handles on all tools could use some improvement.
In the mid-1920s, he applied and was approved for a patent on "an improved hand tool, such for example as an axe, hammer or hatchet, in which the head and handle are drop forged in one piece and so shaped and treated that maximum strength is obtained with minimum weight and material and the tool is well balanced and substantially unbreakable."
About a hundred years and a whole bunch of patents later, the Estwing Manufacturing Co. still makes the same basic axe, and it's still guaranteed unbreakable "when used in the manner and for the purposes intended for tools of this kind."  The Estwing Sportsman's Axe (model 24A) is also still forged in one piece out of American steel and the edge is hand sharpened. You can even get this iconic and historic axe with a stacked leather grip that has been pressed on, riveted, and then lacquered like it was a hundred years ago. The biggest obvious difference between then and now is that the Estwing Sportsman's Axe has a nylon sheath.
Estwing Sportsman's Axe Details
American Steel
3.25" Edge, Hand Sharpened
Stacked Leather Grip
13.5" Overall
Black Nylon Sheath
Made in the USA
If you're looking for a virtually unbreakable axe, you can't go wrong with the iconic and legendary Estwing Sportman's Axe. It's an excellent axe that has been taking a beating for about a century. If you're interested in this axe, click any link in the article or simply click the button below.


All images courtesy of Smoky Mountain Knife Works – smkw.com.