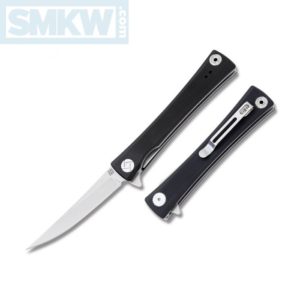 The Artisan Cutlery Waistline is a fantastic looking knife with an upswept blade and a subtle, hourglass shaped handle. The knives in this series are available with a multitude of options and prices ranging from about $50 for some of the D2 models to about $225 for the M390 model.
The Waistline has a 4" upswept clip point blade that tapers to a needle-like point. It comes in D2 tool steel, or S35VN or M390 stainless steel. The ceramic bearings in each model ensure the flipper action is lightning fast and smooth in all models. The blade locks in place with a liner lock on the D2 models and with a hardened steel reinforced framelock on the S35VN and M390 models.
The handles are available in a wide range of colors. They have a slight hourglass or bowtie shape wherein they flare out at both the butt and the pivot ends. You can really see the traditional Asian influence in these modern knives.
The G-10 and carbon fiber models (with the exception of the 1805PBKC) have more flat sculpted handles whereas with the other models (including 1805PBKC) the handles have been slightly rounded. The S35VN and M390 models also have CNC machined titanium handles for a great look and slip resistance. All models come with an ambidextrous tip-up pocket clip.
Click any image in the thumbnail gallery to launch a slideshow of larger images.
Artisan Cutlery Waistline 1805P Series Details
D2 Tol Steel
4" Clip Point, Stonewash Finish
G-10 or Carbon Fiber Handles
Flipper with Ceramic Bearings
Linerlock
Lanyard Hole
Ambidextrous Tip-Up Pocket Clip
5" Closed
9" Overall

Artisan Cutlery Waistline 1805G Series Details
S35VN or M390 Stainless Steel
4" Clip Point, Satin Finish
Titanium Handles
Flipper with Ceramic Bearings
Framelock
Lanyard Hole
Ambidextrous Tip-Up Pocket Clip
5" Closed
9" Overall

The Artisan Cutlery Waistline knives are gorgeous and available in a wide variety of models at various price points. If you're interested in these knives, click any link in the article or simply click the button below.


All images courtesy of Smoky Mountain Knife Works – smkw.com.