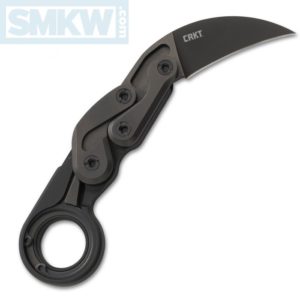 The 2019 new CRKT line up is arriving, and we couldn't be more thrilled. If you haven't seen the internet buzz about the CRKT Provoke, we're here to tell you it's one of the coolest new knives we've seen thus far. Designed by custom knifemaker Joe Caswell of Caswell Knives, the Provoke is a very modern take on the very old karambit. It's not tacticool. It's actually cool. The CRKT Provoke is an almost self-folding knife that's for anyone who loves cool new mechanisms and innovation in knives.
How does it work? Push down with your thumb on the crossbar nearest your thumb and with the new Kinematic technology, the blade slides out smoothly, easily, and rapidly. Or as CRKT says, "Thumb pressure on the upper crossbar sets the chain reaction in motion, causing the blade to lunge to action while you've got a firm grasp on the handle." To unlock the blade, you move the lever just under the bottom of the finger loop, grasp the back of the blade with your free hand, and the blade slides back to closed.  If you haven't yet watched the CRKT video above this post demonstrating the Provoke, you absolutely should.  It's something you must see to believe.
The 2.41" D2 hawkbill is black titanium nitride coated for corrosion resistance. The handle is aircraft-grade 6061 aluminum and houses a tip-up pocket clip. The pocket clip also uses a really cool new innovation. CRKT tells us when the pocket clip is not in use, it sits "almost completely flush with the handle and likewise activated with light thumb pressure."  Basically, you push down at the top of the finger ring with your thumb and the pocket clip comes out.
CRKT Provoke Details
D2, Titanium Nitride Coated
2.41" Hawkbill Karambit
0.209″ Blade Thickness
Folding Knife with Kinematic Opener
6061 T6 Aluminum Handles
Tip-Up Pocket Clip
6.1 Ounces
4.96" Closed
7.37" Overall
If you love cool new mechanisms and knife innovation, you'll love the CRKT Provoke. To get this knife, click any link in the article or simply click the button below.


All images courtesy of Smoky Mountain Knife Works – smkw.com.