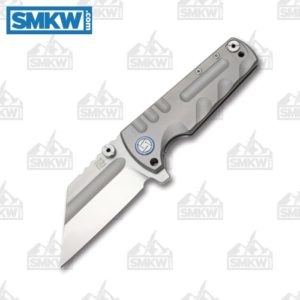 The new Artisan Cutlery Proponent is to the Artisan lineup as the Hulk is to the Avengers. This giant hulk of a knife can not only slice and chop through all the Doritos bags and cardboard boxes in your life, it just might be able to demolish a house all by itself. Weighing in at almost 11 ounces, this hefty Dirk Pinkerton creation features high-end materials and a kickass design. It has an ancient blade shape combined with almost futuristic handles creating an overall look that is simply awesome.
The 3.85" CPM-S35VN Seax-shaped Wharncliffe blade rides on a ceramic ball bearing pivot assembly. It flips open smoothly and efficiently with either the flipper or the large, ambidextrous thumb studs. A really cool feature of this knife is the secondary safety. It took us a minute to figure out how this worked so we'll save you the time. The Proponent comes with a removable threaded bolt. This bolt screws into the threaded hole on the handles. It essentially functions as a secondary lock to keep the knife open or closed, virtually eliminating any fear of an accidental, in-pocket opening. It also adds a bit of extra security for when you're really bearing down for tough cuts with this knife.
To keep the Avengers metaphor going, the machined titanium handles look like they've a bit of Tony Stark to them, and the anodized blue pivot collar adds a great splash of color to the knife. It also has deep spine jimping and finger grooves which provides an exceptional grip. Finally, it comes with an ambidextrous, tip-up pocket clip.
Artisan Cutlery Proponent Details
CPM-S35VN Stainless Steel, Satin Finish
3.85" Wharncliffe Blade
Titanium Handle
Flipper and Ambidextrous Thumb Studs
Framelock
Reversible Tip-up Pocket Clip
Weight: 10.9 oz.
5" Closed
8.85" Overall
If you love a big, beefy chunk of steel, the Artisan Cutlery Proponent makes a great choice. If you're interested in this knife, click any link in the article or simply click the button below.


All images courtesy of Smoky Mountain Knife Works – smkw.com.