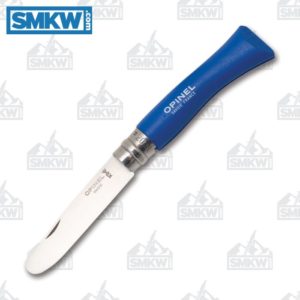 Learning the ins and outs of proper knife use and care can be a fun time for a new knife enthusiast. The colorful Opinel My First Opinel No7 is geared toward young users. It has a few features that make it safer than your average pocketknife. The My First Opinel is sort of like a folding butter knife with a sharpened edge, and it just might be the perfect first knife for your kids.
It has a 12C27 Sandvik stainless steel blade and a blunt tip that makes this knife great for youngsters, as it absolutely prevents both stabbing and piercing. While the tip may be blunt, the edge is still sharpened, and it still cuts. That's why Opinel states that, "young users should be supervised at all time."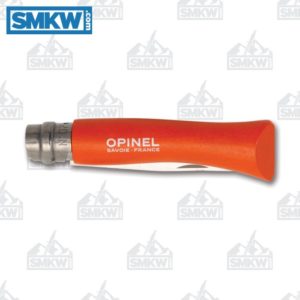 The 3.75″ Hornbeam handle comes in a standard natural finish, as well as a variety of bright colors. Hornbeam is a lightweight wood that comes from French forests. It holds colors beautifully and allows color choices like vibrant royal blue, orange, lime green, and red.
Like most Opinels, this knife opens with a nail nick and locks with the Viroblock collar. Simply twist the safety ring around the handle to securely lock the blade in either the closed or open position.
Opinel My First Opinel No7 Details
12C27 Sandvik Stainless Steel, Satin Finish
3" Blunt Tip Blade
Hornbeam Handle
Virobloc Lock
1.3 oz.
3.75″ Closed
6.75" Overall
Made in France
Between the blunt tip, the locking collar, and the fun, colorful handles the Opinel My First Opinel No7 might be the perfect first knife for kids. It's a straight-forward, user friendly pocketknife meant for one thing, cutting. You can pick one up for just $15 by clicking any link in the article or the simply clicking button below.


All images courtesy of Smoky Mountain Knife Works – smkw.com.