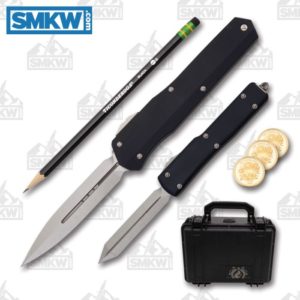 We talked about some of the knives used for combat in the first two John Wick movies before John Wick 3 came out. Little did we know Microtech was going to release an extra special edition of their knives (and a few extras) with the Microtech John Wick Continental Set. In the land of really cool collectible Microtechs, this just might be the coolest.
Basically, there is one big and one small out-the-front (OTF) automatic knife in this set. There's a custom Microtech Cypher and a custom Microtech UTX-70. Each features stonewashed CTS-204P stainless steel. The Cypher has a double-edged dagger blade and the UTX-70 has a double-edged Spartan style dagger blade. These autos feature lightweight 6061-T6 aluminum handles with gray hardware, thumb slides, and pocket clips. Each is serialized with their number and manufacturing date. Each knife has "Continental" written on either the pocket clip or the handle along with the Lion logo.
The knives are cool, but it's the other stuff in the set that makes it way cool. As seen in the movies, you'll also get three gold plated Continental challenge coins. These aren't your dime store knock-offs either. They've got great detailing and  significant heft to them.
Another nice little extra is the inclusion of a black no. 2 Ticonderoga pencil. If you've seen any of the Wick films, you'll get a chuckle out of this addition. And, of course, it's sharp right out of the box. Everything in this set comes packaged in a serialized and customized waterproof Pelican case that's so cool it's somewhere between way cool and cooler than cool.
Click any thumbnail in the gallery below to launch a slideshow of larger images.
Overall, the Microtech John Wick Continental Set is a seriously excellent set that is destined to be an heirloom-level collectible. To get this set, click any link in the article or simply click the button below.


All images courtesy of Smoky Mountain Knife Works – smkw.com.