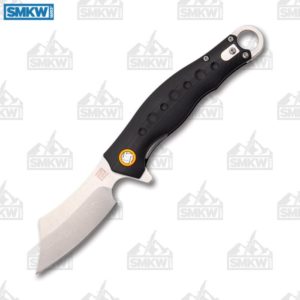 The Artisan Cutlery Corsair has been on our radar for a while here at Knife Newsroom, and needless to say, we're pretty pumped that it has been officially released. This wicked little slicer resembles something that might be found on a pirate ship. So, if you've been searching far and wide for that sea-roving cutlery inspired everyday knife, you're in the right place.
The Corsair features a 2.95" D2 tool steel blade with a shape that almost, but not quite, defies categorization. If we were checking off the check boxes on a multi-choice quiz, we'd maybe check off "cleaver", "clip point", and "upswept" blade? That'd make it an upswept clip point cleaver? Honestly, it's a cutlass. It's a small, pocket friendly cutlass with a giant finger choil and a fast action. Basically, it might be one of the coolest knives in the history of cool knives.
Weighing about 3 ounces and with a closed length of less than 4″ this is an incredibly pocket friendly knife.  The contoured G-10 handle scales have circular divots in the sides giving it a grip that's as interesting and unique as it's blade shape. It lso has a stainless standoff and a loop on the end that can be unlatched to let you tether the knife to other gear. It has an ambidextrous tip-up pocket clip so this knife is perfect for right or left-hand carry.
Artisan Cutlery Corsair Details
D2 Tool Steel, Stonewash Finish
2.95" Cleaver Blade
0.15" Blade Thickness
Flipper Opener
G-10 Handles
Ambidextrous Tip-up Pocket Clip
Stainless Snap Loop
3 oz.
3.93" Closed
6.89" Overall
Overall, the Artisan Cutlery Corsair is just a really fun knife to use and is sure to be a highlight in any collection. You can pick one up for about $60. If you're interested in this knife, click any link in the article or simply click the button below.


All images courtesy of Smoky Mountain Knife Works – smkw.com.