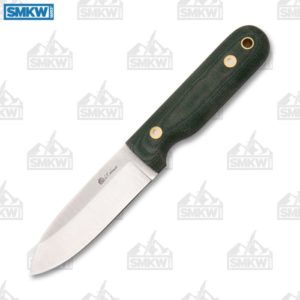 Some of you might be old enough to remember one of our favorite television characters. No, it wasn't Captain Kangaroo. We just couldn't trust Captain Kangaroo's wig. We loved his friend Mr. Green Jeans. He was, of course, the first thing we thought of when we saw the L T Wright Bushcrafter Green Jeans Micarta set. Let's take a look at them.
If you aren't familiar L. T. Wright Knives, they make an outstanding American-made, small batched produced knife. One of their most popular models is the L.T. Wright Bushcrafter. It's now available with a new set of denim micarta handles exclusively at Smoky Moutain Knife Works. These exclusives feature green jeans denim micarta handles that are just under an inch thick. With no hyperbole, we can say that's basically a ton of micarta. They're contoured for an incredibly comfortable grip, and the fit and finish is flawless. The handles are secured with nickel silver and brass fish eye hardware, and it has a very generous lanyard tube.
This Bushcrafter has a 4″ A2 tool steel drop point with a sharpened 90-degree spine and a satin finish. It comes with either a Scandi or a saber grind. It's razor sharp, straight out of the box.
It comes with a premium leather dangler sheath with an integral fire steel loop. Speaking of fire steel loops, you can also get a matching Green Jean Micarta fire steel. It's sold separately but it's literally one of the coolest things we've ever seen. It's a 3″ fire steel with a substantial green jeans denim micarta handle and a brass lanyard tube so you can add a lanyard to both your knife and your ferro rod.
L T Wright Bushcrafter Green Jeans Micarta Details
A2 Tool Steel, Satin Finish
4" Drop Point
1/8" Blade Thickness
57-59HRC
Full Tang
Green Jeans Micarta Handles
Leather Sheath
6.72 oz.
8.25" Overall
Made in the USA
L T Wright Green Jeans Micarta Fire Steel Details
3" Fire Rod
Green Jeans Micarta Handles
Lanyard Tube
2.88 oz.
4.625" Overall
Made in the USA
With the L T Wright Bushcrafter Green Jeans Micarta set you can be stylin' and profilin' just like Mr. Green Jeans. To get one for yourself, click any link in the article or simply click the button down below.


All images courtesy of Smoky Mountain Knife Works – smkw.com.