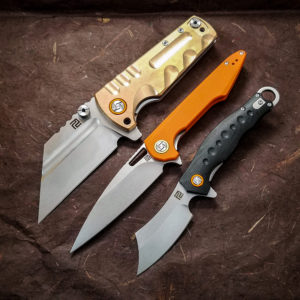 Artisan Cutlery might be one of the newer kids on the knife block but they're definitely a knife manufacturer to watch. Their knives are outstanding. Their marketing is superb. They make most models in a variety of steels, handle materials, sizes, and prices to suit everyone.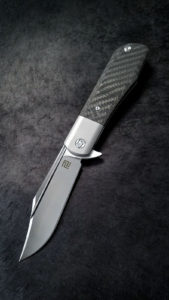 It might be easier to pick a favorite child than to pick a favorite 2019 Artisan release. Need we say more about the Corsair than "pocket sword"? How about D Rocket Design's Hyperion? Dirk Pinkerton had the big, beefy (and insanely popular) Proponent. Dylan Mallery had the sleek and sexy Archaeo. They're all unique knives with a great look that suit different personalities and moods. They all function beautifully. We love all of them. Alas, we had to pick one.
The Artisan Cutlery Proponent might not be for everyone because it's a huge chunk of a knife. The most-lightweight version is the G10 handled version. What sets it above all others is the unique profile which combines an ancient almost-Seax blade shape with a futuristic looking handle. The result is a seriously cool knife that is unlike all others and is one of our favorite knives of 2019.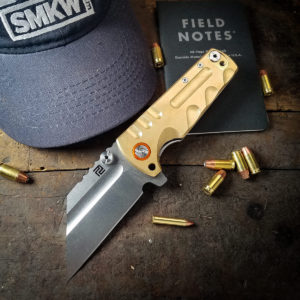 The Proponent has a ceramic ball bearing pivot assembly which means this beast of a knife has a fast and smooth action with either the thumb studs or flipper. The premium S35VN version is a framelock and the budget friendly D2 versions are all liner locks. All models come with a secondary safety screw with securely locks your knife in the open position.
As always with Artisan, it's available in a variety of handle materials and at a variety of price points. The lightest weight is 9.5 ounces for the titanium, and the heaviest version are the Copper, Brass, or Bronze versions at almost 15 ounces.
Artisan Proponent Details
S35VN or D2, Stonewash Finish
4" Modified Wharncliffe Blade
Linerlock or Framelock
Secondary Safety Screw
Ceramic Ball Bearing Pivot Assembly
Flipper or Thumb Studs
Stainless Steel Liners
Various Handle Scales
Ambidextrous Tip-Up Pocket Clip
9.5 Ounces to 14.88 Ounces
5.62" Closed
9.64" Overall
The Artisan Cutlery Proponent is an outstanding knife with some cool features and a great look. You can pick up one of these fantastic beasts for as little as $60. If you're interested in these knives, click any link in the article or simply click the button below.



All images courtesy of Smoky Mountain Knife Works – smkw.com.