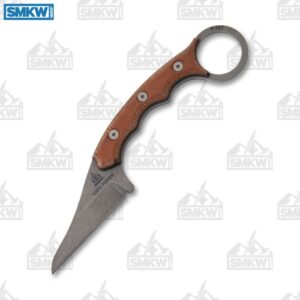 Have you seen the TOPS Poker? It's on our Top Ten Most Interesting Knives list of 2020. TOPS tells us, "One weekend, while [TOPS' General Manager, Craig Powell] was working on a leather sheath project that he wanted to do, he came up with the idea to make a kiridashi style knife close to the traditional Japanese style (with a sort of chisel ground blade) that he could use specifically for cutting leather for projects and other things around the house." He later tweaked the design to include a karambit-style finger ring. As we can clearly see, the result is something of a Wharncliffe mixed with something of a Sheepsfoot that looks like no other blade we've ever seen. This small fixed blade is a kiridashi-karambit with just a ton of utility.
It features a 2.5" 1095 carbon steel blade with an acid rain finish. It has a blade thickness of 0.13" and a 56-58HRC. Although the blade shape kind of looks like a boot, it's stinking cool. The sloped spine reinforces and strengths the piercing tip which gives it more strength than you might immediately notice. It has a straight slicing edge with a cutting length of 2.25".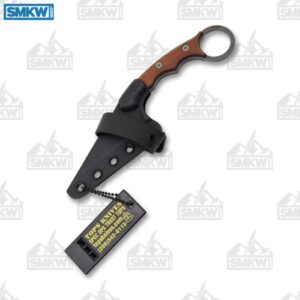 The Poker is full tang constructed and has tan canvas micarta handles with black canvas micarta underliners. The contoured handles are comfortable with a three-finger grip. The ring not only adds a touch of self-defense, it also extends the grip to a larger hand size and enables security in a variety of grips.
The Poker comes with a black Kydex sheath with a Beta loop and multiple attachment points. You can carry this knife in almost any conceivable way. It's 6.88" overall and weighs 2.7 ounces.
TOPS Poker Details
1095 Carbon Steel, Acid Rain Finish
2.5" Kiridashi Blade
0.13" Blade Thickness
56-58HRC
Full Tang
Micarta Handle
Karambit-Style Ring
Hardware Torx
Black Kydex Sheath with Beta Loop Attachment
2.7 Ounces, Knife Weight
3.6 Ounces, Knife and Sheath Weight
6.88" Overall
Made in the USA
The TOPS Poker is an awesome knife with an interesting look and ton of utility. You can get one for about $87. If you're interested in this knife, click any link in the article or simply click the button below.


All images courtesy of Smoky Mountain Knife Works – smkw.com.