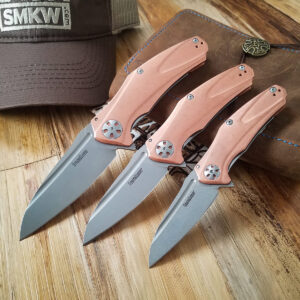 You can now get the Kershaw Copper Natrix in extra small, medium, or extra-large models. The smallest model is a pocket friendly summer carry, while the extra-large is a bigger, beefier but great looking workhorse. We remember when the Natrix was first released in copper. It was an almost instant hit and demand was through the roof. It's continued to be a knife that is in high demand. However, one of the complaints was the about the size. Some said it was too small, while others thought it was too big. Let's size up the new models to see the similarities and differences between them all.
The long and short of it is, the closed length on each model is about 0.7" longer than the smaller version. The extra small Copper Natrix is 3.6", the medium is 4.3" closed, and the extra-large model is about 5" closed.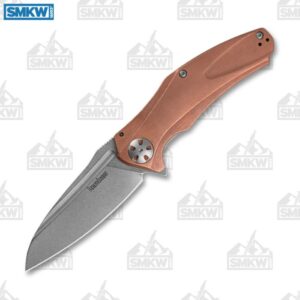 The extra small model weighs in at a mere 3.2 ounces. The medium model weighs about 4.9 ounces. The extra large is about 8.6 ounces.
All three Copper Natrix models are manual flippers with a KVT ball bearing pivot. This means the D2 modified drop point blade flicks open smoothly and easily. They all have a stonewash finish and a blade thickness of about 0.11". There's approximately a half-inch blade length difference between the three models. The extra-small has a 2.75" blade, the medium is 3.25", and the extra-large has a blade length of 3.7".
The copper handles on this Sub-Frame Lock are mounted on a stainless-steel frame and have a bead blast finish. The handle thickness is 0.41" for the extra small and medium models. The extra large is just a bit thicker at 0.5". They each have a deep carry, ambidextrous, tip-up pocket clip.
Kershaw Copper Natrix Details
D2, Stonewash Finish
2.75" (xs), 3.25" (m), or 3.7" (xl) Modified Drop Point
0.11" Blade Thickness
Flipper with KVT Ball Bearing Pivot
Sub-Frame Lock
Copper Handle Scales
Stainless Steel Frame
0.41", 0.41", or 0.5" Handle Thickness
Ambidextrous Tip-Up Pocket Clip
3.2, 4.9, or 8.6 Ounces
3.6", 4.3", or 5" Closed
6.4", 7.5", or 8.75" Overall
It doesn't matter whether you prefer the smaller, more pocket friendly extra-small Kershaw Copper Natrix or the extra-large is more suited to your needs. They're all good knives, with a great action, and a seriously great look. They make an attractive addition to any EDC rotation. If you're interested in these knives, click any link in the article or simply click the button below.


All images courtesy of Smoky Mountain Knife Works – smkw.com.