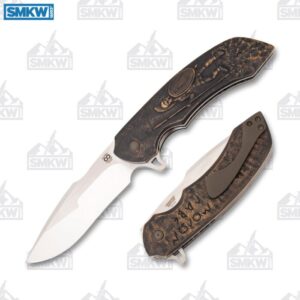 It's not often we get to talk about art knives, but the Custom Olamic Wayfarer Spartan is quite literally a one-of-a-kind work of art within a limited series. That alone makes it a collectible. The artwork and attention to detail in the handle scales is simply amazing. Is it in our budget? We're writers. Heck no, it isn't in our budget. Does that mean it's not worth mentioning? Heck no, it's a beautiful knife with a hand carved handle scales and high-end materials. Quite frankly, it's stunning and we spent more than a few minutes just admiring the workmanship it before we even flicked it the first time. It's well worth not only a glance, it's worth a good, long, appreciative look.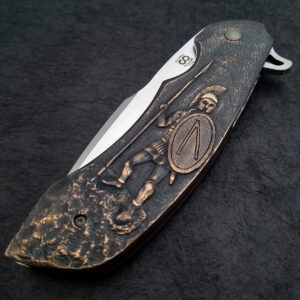 This custom Spartan Wayfarer has all the excellence for which Olamic knives are known and elevates it just a bit more to a thing of exquisite beauty. The hand carved bronze handle scales are finely textured and highly detailed. They were hand carved by Andrey Kolesnikov. You can see other examples of his work on Instagram @knifemaster60.
The front handle is the image of a Spartan standing on a rock, the artist who carved this managed to convey all the defiance and strength in his stance. The bronze back handle scale is also hand carved with Molon Labe which is ancient Greek for "Come take [them.]" And that, of course, instantly recalled that whole awesome scene in 300 and, of course, we had to sit there and bask in the glow of ancient warrior pithy awesomeness. Even more astonishing is it's a true story, and quite possibly one of the most kick-butt, Die Hard (cept True Story) moments in all of history. Which is probably why it still makes us grin and all but bow in admiration thousands of years later.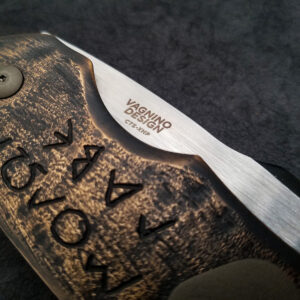 Not only can you see the excellent workmanship in this knife, the feel all but gave us life. The feel of this knife in hand is straight up amazing. It's so finely and very smoothly textured, you'd almost swear it feels almost impossible. Often times with hand crafted items, something gets missed. Some tiny little section is rough to the touch. That's not the case here. It's literally flawless.
After you get past the remarkable handle scales, you still have a whole outstanding knife backed by the excellent customer service we've written about before. This knife has 4" CTS XHP harpoon blade with a compound grind and a two-tone mirror polish and hand rubbed satin finish. The mirror polish is, just like the rest of this knife, flawless. It's a flipper with a caged ball bearing pivot system that runs on a thrust washer.
The titanium frame on this linerlock is mirror polished. It has a titanium 3D hand sculpted tip-up pocket clip. The handle thickness is 0.53". It's 5.25" closed, and it weighs 10.3 ounces. It's serialized, and it comes with a dated certificate of authenticity.
Custom Olamic Wayfarer Spartan Details
CTS XHP, Two Tone Hand Rubbed Satin and Mirror Polish Finish
4" Harpoon, Compound Grind
0.146" Blade Thickness
Linerlock
Mirror Polished Titanium Frame
Hand Carved Bronze Handle Scales
0.53" Handle Thickness
10.3 Ounces
Titanium Tip-Up Pocket Clip
5.25" Closed
9.25" Overall
Made in the USA
The Custom Olamic Wayfarer Spartan is a one-of-a-kind work of art that is breathtakingly beautiful. To see more about this knife, click any link in the article or simply click the button below.


All images courtesy of Smoky Mountain Knife Works – smkw.com.