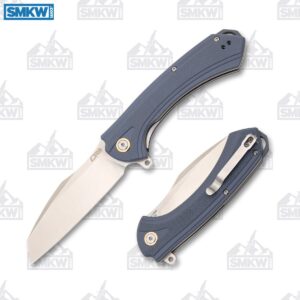 When we got the new CJRB Barranca, the only thing that stood out more than the size and shape of its blade was the name. Knife names are always an adventure these days, but we had to look up Barranca to see if it was an actual thing. It is, in fact a real thing. It's a steep bank or bluff, and one look at the handles will tell you how the new CJRB Barranca got its name. Of course, at $30 for 3.7″ of D2 steel, ceramic ball bearings, and 8.5″ of full size EDC, they could've called it "Billy the Wonder Knife", and we'd still be interested.
So, those handles that gave this knife its name are G-10 and come in several colors and materials (at different price points). They're machined to look like a topographical map on the sides. They provide contour without being smooth. In fact, the way the machining Y's at the pivot is very pleasing to the eye. The steel liners give the handle scales strength and provide for a strong linerlock.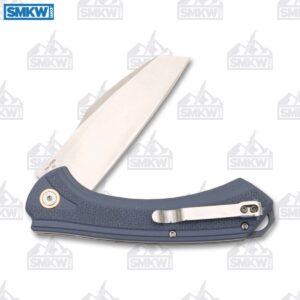 CJRB calls this a Wharncliffe blade, but we're not sure that's accurate. The 3.7″ D2 tool steel blade looks more like a reverse tanto or  a fat coping blade to us. Its stonewash finish and recessed thumb curve are a very nice touch though.  At .13″ thick, this blade has some real heft to it.
It's a manual flipper with a ceramic ball bearing pivot, so the action – like most CJRB knives – is superb. The design is rounded out with an ambidextrous tip-up pocket clip, an anodized pivot collar, and a handle-matching spacer with an integrated lanyard loop.
CJRB Barranca Details
3.7″ D2 tool steel Wharncliffe blade with a stonewash finish.
Manual flipper with ceramic ball bearings
Linerlock
Machined G-10 handles with steel liners
Ambidextrous tip-up pocket clip
Spacer with lanyard loop.
4.8″ Closed, 8.5″ Overall and Weighs 4.8oz.
The new CJRB Barranca is a full-size EDC that will in no way break the bank. It's big, strong, and has a funky name, and who doesn't love a funky name? If you want one of these knives, you can simply click any link in this article or the button below. You'll find a variety of colors and styles, including an exclusive and copper at a slightly higher price point.