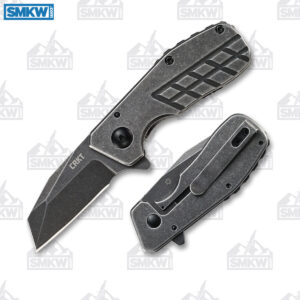 Imagine a razor, a chisel, and a Wharncliffe had a baby. That's exactly what designer Jon Graham did to create the CRKT Razelciffe. It's a compact EDC that gives you the benefits of a razor, a chisel and a Wharncliffe blade all in one knife.
The blade shape on this knife really challenges how we think about small utility EDC knives. As CRKT says, "Forget the fine tip. The Razelcliffe Compact boldly challenges the blade shape norm."  In fact, "Razor-like qualities combine with a chisel-like appearance combine to create the Razel. Add a Wharncliffe blade, make it the ideal size for an everyday carry, and the Razelcliffe comes to life. Jon gave it a deep finger choil and significant thumb friction grooves to improve the grip for both burly slicing and detailed shaving," CRKT says.
It's good for slicing, shaving, chopping, and paring, and it fits so nicely in your pocket that you won't even know it's there.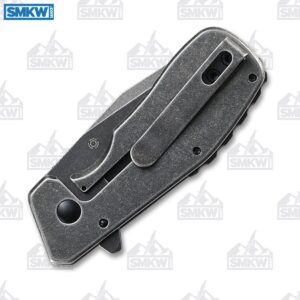 The CRKT Razelcliffe features a 2″ 8Cr13MoV Razelcliffe blade with a stonewash finish. If you aren't aware, 8Cr steels most closely compare to 440 steels. This means they resist rust well and retain an edge quite easily. They're also easy for the novice to sharpen. At nearly 1/8″ thick, it certainly feels substantial.
This manual flipper has a 2Cr13 stainless steel handle and an IKBS ball bearing pivot. If flips with surprising ease for such a small EDC knife. It's a framelock which provides strong lock-up for whatever you put this blade through on a day to day basis.
It's just 3.3″ closed and weighs 3.3oz. With the deep carry, tip-up pocket clip, this knife rides super easy in  the pocket. While the pocket clip is removeable, it is not reversible.
At 5.5″ overall, the Razelcliffe feels surprisingly good in hand. The finger choil in the front and the swell in the butt of the handle really let this knife sit securely in your palm as you grip it. Your hand will naturally wrap this handle, and your thumb will land firmly on the spine of the blade.
CRKT Razelcliffe Details
2″ 8Cr13MoV Razelcliffe Blade with a Stonewash Finish
Manual Flipper with IKBS Ball Bearing Pivot
2Cr13 Stainless Steel Handles with a Stonewash Finish
Framelock
Removeable Deep Carry Tip-up Pocket Clip
3.3″ Closed
5.5″ Overall
3.3oz.
The CRKT Razelcliffe really does challenge the blade shape norm. It's compact, easy to carry, and comes in at just under $27. Give this one a go if you're looking for a small EDC that can do almost anything. If you're interested in learning more or getting one of these, simply click any link in this article or the button below.


All images courtesy of Smoky Mountain Knife Works – smkw.com.